My Sharjah Rent: Couple moved to villa after Dubai Hills landlord wanted 67% increase
My Sharjah Rent takes you inside a reader's home to have a look at what they get for their money, how much they pay in rent and asks them what they like and don't like
Entrepreneur Perihan Abouzeid moved to a Sharjah villa in February with her husband and their daughter Joud after their Dubai landlord wanted to increase their rent by 67 per cent.
The couple now live in a larger home for Dh10,000 less than they were paying for their previous two-bedroom apartment.
Ms Abouzeid's villa has three bedrooms and a garden at Nasma Residences, a quiet suburb, with space for her to oversee her start-up, PeriCare, which creates products for mothers.
Although the 38-year-old didn't disclose how much rent she pays for the villa, similar homes on the development in the Al Seyouh neighbourhood currently lease for Dh90,000 a year, up from Dh85,000 at the start of 2023.
Ms Abouzeid took The National on a tour to show us why leaving Dubai was the best thing for her pocket.
What can you tell us about your home?
We live in a three-bedroom, four-bathroom villa, with a maid's room and storage.
It's a corner unit, so we have a bigger garden and share walls with only one neighbour.
We only have a two-year-old daughter, so we use the third bedroom as a multipurpose room, mainly a home office and a second mini living room for my husband to play games, or me to binge on TV shows.
Even though it's much bigger than the two-bedroom apartment we lived in previously, the bills are pretty much on par with what we used to pay.
Where did you live previously?
We lived in Dubai Hills and moved there in February 2020 before anyone knew about it.
When my husband went to check out the area, he found brokers waiting on the street asking passers-by if they were looking for apartments.
It was the first neighbourhood I lived in since I moved to the UAE in January 2020. My husband was living in Abu Dhabi, in a studio on Al Reem Island, before then.
Prior to my move to Dubai, I was in New York so I told my husband (fiancé at the time) that I would only move to a place close to a park or some sort of nature.
Dubai Hills' park was pretty much the selling point.
We never negotiated the rent, which was still on the high end for an unknown neighbourhood. Little did we know that a couple of years later our landlord would double the rent.
Why did you choose this area of Sharjah?
That's where Nasma Residences becomes a real winner. In terms of location, we're pretty much on Emirates Road, behind Grand Sharjah Mosque. We're technically closer to Dubai than downtown Sharjah.
When we lived in Dubai Hills, I used to drive 20 to 30 minutes to drop my daughter at nursery. The ride home after pickup was a nightmare as I had to endure the traffic of Hessa Street and Umm Suqeim Street.
Mostly Arabs live in this neighbourhood, which is very different from Dubai.
While I love and sometimes miss the cultural diversity of Dubai, I'm happy our daughter is growing up in a community that speaks Arabic, our native tongue, and celebrates Islamic observances. That's something we didn't have in Dubai Hills.
What facilities do you have around you?
We have a community shopping centre which is a three-minute walk from our villa.
It also has a Starbucks, a fully equipped gym with classes and personal trainers, a Spinneys, a pharmacy, and a couple of restaurants with great menus.
Perhaps best of all is the British Orchard nursery that's within walking distance of our villa.
We also have a big park for families. They have bouncy castles and race cars, as well as a water park section.
Is it a sociable area?
We're lucky to have really sociable neighbours with whom we interact frequently.
In fact, we were really moved by generous gestures of a couple of our neighbours who bring us treats with every occasion like Ramadan, Eid, Haq Al Laila.
Have you personalised the villa?
We bought new furniture to fill the extra space. We also installed a swing, slide and inflatable pool for our daughter in the garden. And we got a grill and outdoor furniture so we could host barbecues.
Previously, we were only able to host two to four people maximum. The last dinner party we had here, we invited 17 guests.
We also bought new rugs, and installed chandeliers. The multipurpose room was also carefully furnished to create a feeling of Zen, so both my husband and I can get some "me" time when needed.
Does living here offer value for money?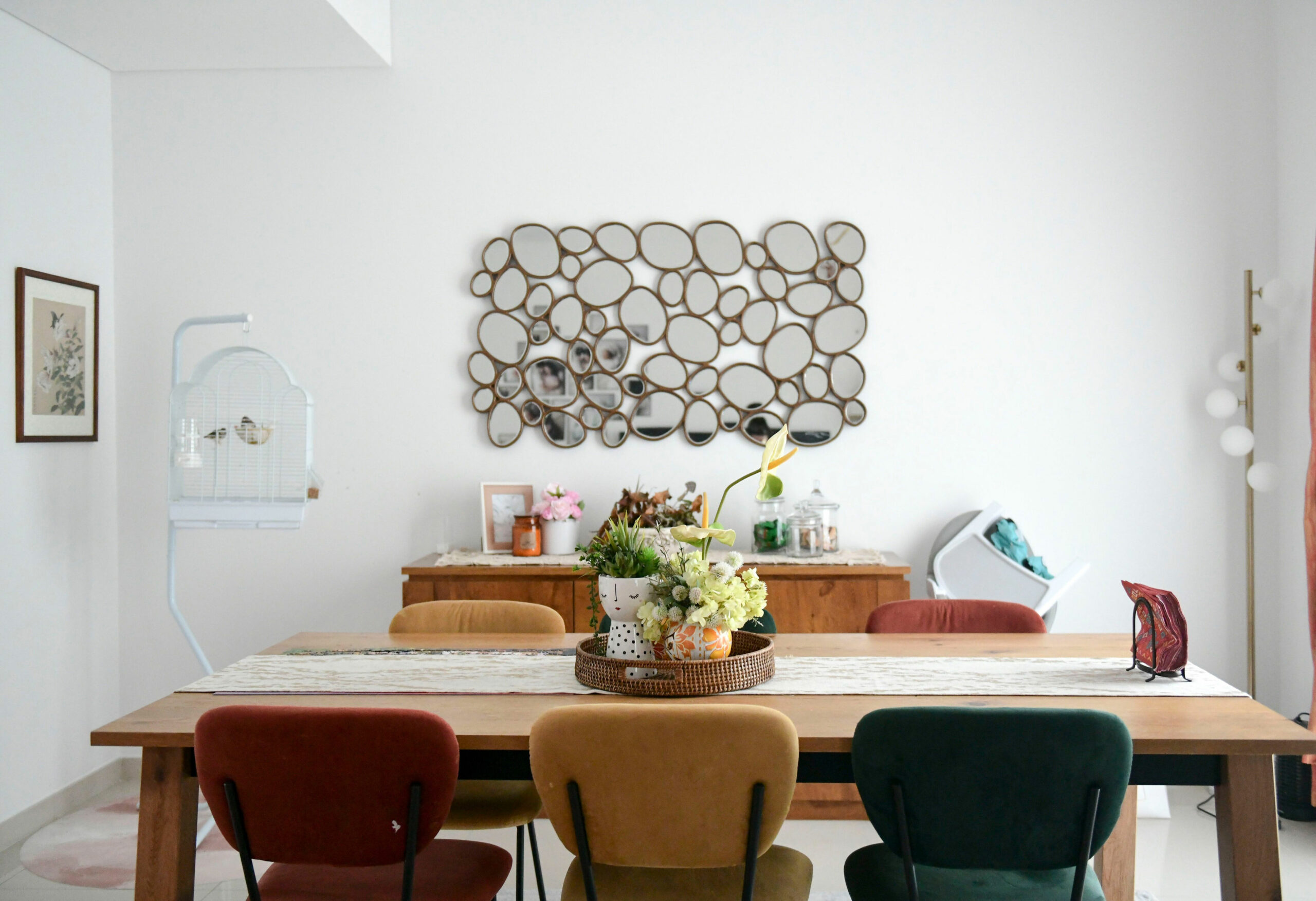 The rent we currently pay for a three-bedroom villa is Dh10,000 less than we paid previously for a two-bedroom apartment with no maid's room.
It's almost half of the new rental amount that our landlord was asking for before giving us notice to vacate to sell.
We get to keep this rental price for three years, as per Sharjah law. It eliminates the unpredictability and creates a sense of security for us. We believe it's a fair price given the location.
I definitely believe Dubai markets are currently way too inflated in an unfair way as incomes are the same.
Are there any downsides to living here?
The location; it's a bit remote compared to Dubai Hills.
The other thing I don't necessarily like is that the swimming pool is gender-segregated.
My husband can go on three days of the week and I can go on the other four, but we can't use it as a family which is a bit weird.
I'd rather have at least one day dedicated to families, especially as we have an active toddler who often needs both parents to watch out for her.
Do you plan to stay in the property?
We feel very comfortable in this home and see ourselves living here for years, until we are ready to buy property.
The only other reason we would move is if we couldn't find a good school for our daughter that's within reasonable proximity to our home.
Other than that, we're set on staying at least for three years.