Netflix's I Am Georgina shows Cristiano Ronaldo lighting up Burj Khalifa for Rodriguez
Season two of Netflix's I Am Georgina, a reality series that follows the life of Cristiano Ronaldo's girlfriend Georgina Rodriguez, will be released on Friday.
The show, filmed last year before the couple's move to Saudi Arabia, follows Rodriguez's jet-setting lifestyle, including a family trip to Dubai, as well as stints in Lapland and Cannes.
Rodriguez also opens up about the loss of one of her twins, a son named Angel, during childbirth last April.
In a two-minute trailer for the series, Rodriguez says she had "the best moment and the worst moment of her life in an instant".
"Life goes on," a tearful Rodriguez says in the clip. "Cris really encouraged me to continue with my agenda. He said: 'Gio, get on with life. It'll do you good'.
"Right now my priority is my family and my children," she said. "I am really happy and very grateful."
The trailer also shows her saying she is "hard to surprise", before a clip of Burj Khalifa lighting up with a birthday message for her during a trip to Dubai.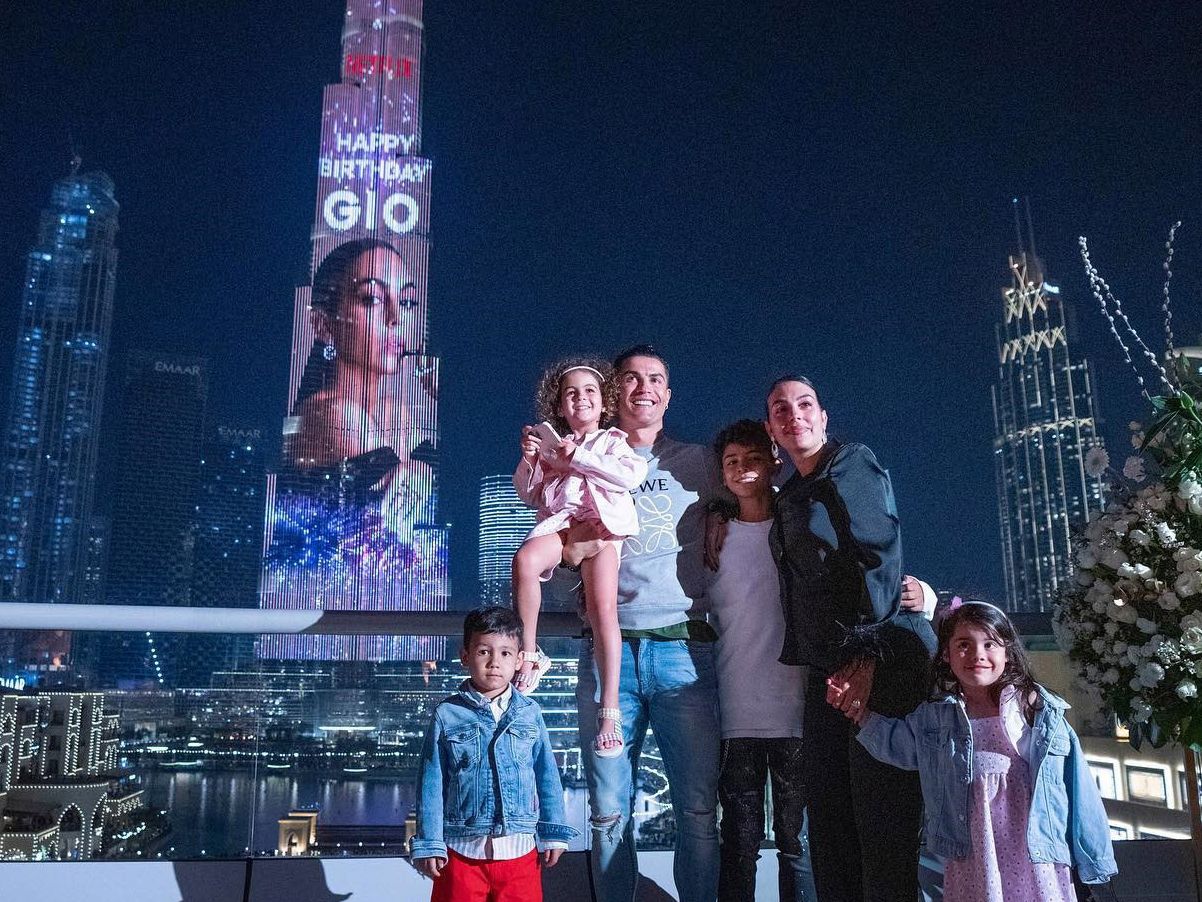 Joined by her mother, children and Ronaldo, the family watch on a rooftop opposite the world's tallest building in Downtown Dubai.
The six-part series also shows her meeting pop star Rosalia, attending Cannes Film Festival and doing a photo shoot with a Ferrari.
Rodriguez, who is the biological mother of two of Ronaldo's five children, also describes herself as "supermum" and "superwoman" in the trailer, which shows her enjoying plenty of time with the family.
The couple now live together in Saudi Arabia after Ronaldo signed a deal to play with Al Nassr.
Since the move, the couple have been enjoying their life in the kingdom from a lavish suite at Four Seasons Hotel Riyadh, and have shared several snippets on social media.
Where did Rodriguez grow up?
Rodriguez is from Jaca, a city in north-eastern Spain. It is located close to the border of France and 460km from Madrid.
"Jaca is the place where I grew up," she says in season one of I Am Georgina, revisiting her home town and strolling through the streets with her family. "It's changed. But it's where I danced, and enjoyed the love of my family. All of that left a mark on me.
"It's very important not to forget where I come from. I know what it's like not to have anything and what it's like to have it all."
She has also lived in Bristol, England, where she spent time working as an au pair.
How did Rodriguez meet Ronaldo?
Rodriguez met Ronaldo, who she describes as her "Prince Charming", in 2016, when she was working at a Gucci store in Madrid. Ronaldo played for Real Madrid from 2009 until 2018.
"His height, his body, his beauty caught my attention. I was trembling in front of him, but a spark ignited," she told Grazia in 2020.
"I am very shy and perhaps this stirred me more in front of a person who, with one glance, had touched me deeply. Then after, the way Cristiano treats me, cares for me and loves me did the rest."
Rodriguez's Saudi style — in pictures