Ramadan 2023: International iftars to sample in Dubai and Abu Dhabi this holy month
The diversity of the UAE's population has helped make a wide variety of cuisines popular and easily available in the Emirates, with a number of international restaurants taking part in Ramadan festivities this year.
From Greek and Georgian to Japanese-Peruvian, here are 14 restaurants pushing the iftar envelope.
Check out our guide of iftars being served in Mena's 50 Best and Michelin Guide-winning restaurants in Dubai and Abu Dhabi
Zoe Modern Greek Kouzina, Abu Dhabi
Cuisine: Greek
Break your fast at this charming venue behind The Abu Dhabi Edition hotel with soup (options change daily), followed by Greek salad with crumbled, barrel-aged feta or charred corn and tomato salad with lemon and paprika dressing. Feta sambousek and tomato keftedes will also be served for starters.
Main courses include slow-cooked beef, crispy-skinned marinated chicken with marbled potatoes, and chicken rigatoni pasta. Or opt for traditional grilled souvlaki, with skewers of chicken, lamb and beef, served with rice, tzatziki dip, piccalilli and pitta.
For dessert, choose between rice pudding and Greek baklava rolls.
Throughout Ramadan; from sunset; Dh129 per person; Marsa Al Bateen Marina; 052 921 3823
Belgrave, Abu Dhabi
Cuisine: Persian
The London-origin restaurant in Abu Dhabi has an all-you-can-eat offer for iftar, featuring Persian flavours.
Break your fast with a hearty soup of the day, followed by a bread basket, as well as a choice of Shirazi salad or Persian cucumber yoghurt. Unlimited mains include lamb koobideh with aromatic rice, chicken masti, chicken saffroni and chicken reyhani.
Throughout Ramadan; 6.30pm-2am; Dh105 per person; Al Rawdah, Abu Dhabi; 02 584 8383
Punjab Grill, Abu Dhabi and Dubai
Cuisine: Indian
Emirati-inspired Indian dishes are on offer at the restaurant's two branches in Abu Dhabi and Dubai.
The six-course menu includes dishes such as zaffrani jhinga with namkeen balateet and coconut korma, Hyderabadi dum ka murgh with masala-crusted kulcha, and khabees with passion fruit yolk and shrikhand.
Throughout Ramadan; sunset-7.30pm; Dh250 per person; The Ritz-Carlton Abu Dhabi, Grand Canal and Anantara Downtown Dubai Hotel; 050 194 1107
Hotel Cartagena, Dubai
Cuisine: Latin-American
The JW Marriott Marquis Hotel Dubai restaurant in Business Bay is offering a set iftar menu that takes in: lentil and chorizo soup, plus a choice between baby gem avocado salad and empanadas Argentina for starters.
For mains, choose between lamb short ribs with glazed rocoto puree and tamarillo, and pan-seared sea bass with mussels, coconut and chilli veloute. Yucca fries or coconut rice will be served on the side.
The meal ends with a dessert platter of Maracaibo fudge cake, churros con chocolate, dulce profiterole and key lime pie.
Throughout Ramadan; sunset-10pm; Dh250 per person; Business Bay; 050 119 7743
Clay, Dubai
Cuisine: Japanese-Peruvian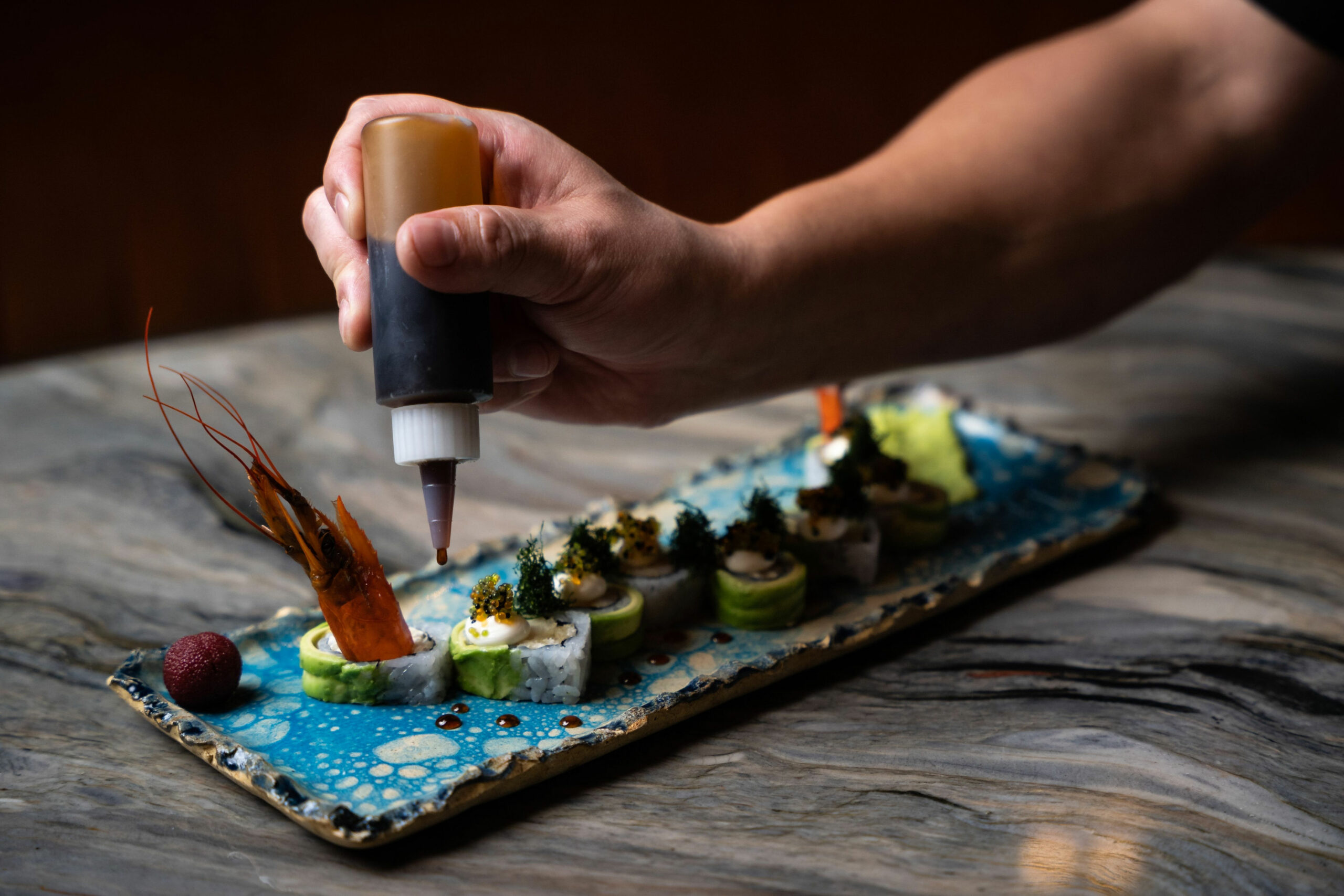 The restaurant on Bluewaters is offering a four-course Nikkei cuisine menu for iftar, with dishes such as prawn apaltado maki, tori lemon grass skewers and miso soup for starters. Main course options include robalo concolon rice and niku udon, while kunafa cheesecake will be served for dessert.
Throughout Ramadan; sunset-8pm; Dh350 per person; Bluewaters Island; 04 422 5600
Rang Mahal, Dubai
Cuisine: Indian
Head to the JW Marriott Marquis Hotel Dubai venue for an Indian feast.
Dishes include lamb shorba simmered with broken wheat, green cardamom and fennel, chicken tikka blended with spices and garlic, and lamb shank stew with Kashmiri chilli, yoghurt and dried ginger powder.
Meat-free options are available for vegetarians, such as lentil broth simmered with garlic, fenugreek and lime, as well as minced vegetable skewers among other dishes. For dessert, choose between Hyderabadi-style bread pudding and shahi Umm Ali.
Throughout Ramadan; sunset-midnight; Dh225 per person; Business Bay; 04 414 3000
Bella Restaurant, Dubai
Cuisine: Italian
The Grand Millennium Hotel Business Bay restaurant combines Middle Eastern and Italian cuisine by way of a six-course menu. The meal starts with an assortment of sourdough bread, dried fruits and nuts with date butter. Next is puntarelle salad, halloumi cheese wrap with pine nuts, parsley and dates, as well as fritto misto and arayes with minced beef and potato with Parmesan and tomato sauce.
Mains include risotto with pilaf rice, capsicum, pistachio, raisins, saffron and confit lamb shoulder, followed by a choice of Wagyu short rib or breaded swordfish. Dessert is gelato made with camel's milk, cherries and almond crumble or a fruit platter.
Throughout Ramadan; sunset-9pm; Dh199 per person; Business Bay; 04 873 3377
Odeon, Dubai
Cuisine: French
Coffee, Medjool dates and lentil soup aside, the Jumeirah Beach Road restaurant offers a French iftar.
Appetisers include cheese gougers, pizza twists and burrata ratatouille.
From mains, choose from roasted chicken with onion-mustard sauce and mashed potato, the catch of the day served Grenobloise-style, as well as a pilaf rice Dauphine ravioli with buttered chicken stock and Comte cheese.
Dessert is a platter of assorted bite-sized sweets and fruit.
Throughout Ramadan; sunset-9pm; Dh249 per person; Jumeirah 3; 04 340 2272
Mogao, Dubai
Cuisine: Pan-Asian
The restaurant in Dubai Silicon Oasis is serving a health-focused menu created in collaboration with Fakeeh University Hospital.
The six-course meal starts with dates and juice followed by a vegetable Thai coconut soup. Other dishes include Thai beef skewers, crystal vegetable dumplings, avo mango roll, stir-fried beef with dragon fruit and black pepper chicken.
Guests can choose from three dessert options: tahini miso brownie, coconut mousse with passion fruit ganache and pistachio monte with caramel gel, pistachio sponge, dulce cremeux and matcha soil.
Throughout Ramadan; sunset-8.30pm; Dh120 per person; Dubai Silicon Oasis; 04 554 8220
Rixos The Palm Hotel & Suites, Dubai
Cuisine: Turkish
A buffet of Turkish delights awaits diners at this Rixos property, courtesy of not one but two on-site Turkish restaurants: A La Turca and Turquoise.
Guests can expect dishes such as tomato salsa with fresh herbs, potato salad, olive oil-braised okra, lamb stew with yoghurt and shallots, Turkish butter rice and fried aubergine served with mince.
Throughout Ramadan; from sunset; Dh275 per person; Palm Jumeirah; 04 457 5454
Roberto's, Dubai
Cuisine: Italian
Iftar at the Dubai International Financial Centre restaurant starts with chickpeas soup with parsley oil and zaatar powder, braised lamb, potato, and spinach croquette and Italian manakish with spicy tomato sauce and smoked mozzarella cheese.
For mains, choose between pan-seared sea bass fillet with fregola pasta, saffron and green peas, and chargrilled lamb loin with pistachio, marinated red onion and mashed potato. End the meal with hibiscus panna cotta with rose water gel.
Throughout Ramadan; sunset-8.30pm; Dh290 per person; DIFC; 04 386 0066
Hutong, Dubai
Cuisine: Chinese
East Asian delicacies are on offer at this restaurant in the Dubai International Financial Centre.
To start, choose from chicken broth with mushroom dumpling or asparagus yellow bean soup, followed by starters such as lam char siu bao, prawn roll and artichoke and lily bud. Steamed cod and fresh Sichuan green pepper and chicken stir-fried in truffle sauce will be served for mains, and guests can also try roasted Peking duck with pancakes for an additional cost.
End the meal with date pudding.
Throughout Ramadan; 6.30pm-8pm; from Dh198 per person; DIFC; 04 220 0868
Scroll through the gallery below of iftar offerings from award-winning Dubai restaurants