Khamzat Chimaev targets title bout at UFC 294 in Abu Dhabi
Khamzat Chimaev has sights set on a title bout in Abu Dhabi later this year, with the unbeaten star saying also that middleweight champion Alex Pereira would offer the least challenging fight in his career thus far.
The Chechen-born athlete, who is expected to move up from welterweight to 185 lbs, has not fought since September, when he missed weight in his scheduled 155lb clash with Nate Diaz and had to take on Kevin Holland instead.
Chimaev, 28, then submitted his opponent in the first round in Las Vegas to climb to 12-0 as a professional.
On Sunday, in the aftermath of UFC 286 in London, UFC president Dana White told reporters Chimaev's next appearance would come in October. Although he did not confirm a date or place, the promotion returns to Abu Dhabi on October 21, with UFC 294 at Etihad Arena.
Chimaev has a strong affinity with the capital, with four of his seven fights in the UFC taking place there, including his explosive debut during the inaugural Fight Island in July 2020.
Speaking on Wednesday night on The MMA Hour, Chimaev discussed his options going forward, at both welterweight and middleweight.
The Sweden-based athlete cited a preference for competing this summer first – the UFC is understood to be targeting a return to Sweden – and then getting a first championship shot, against welterweight champion Leon Edwards, in Abu Dhabi.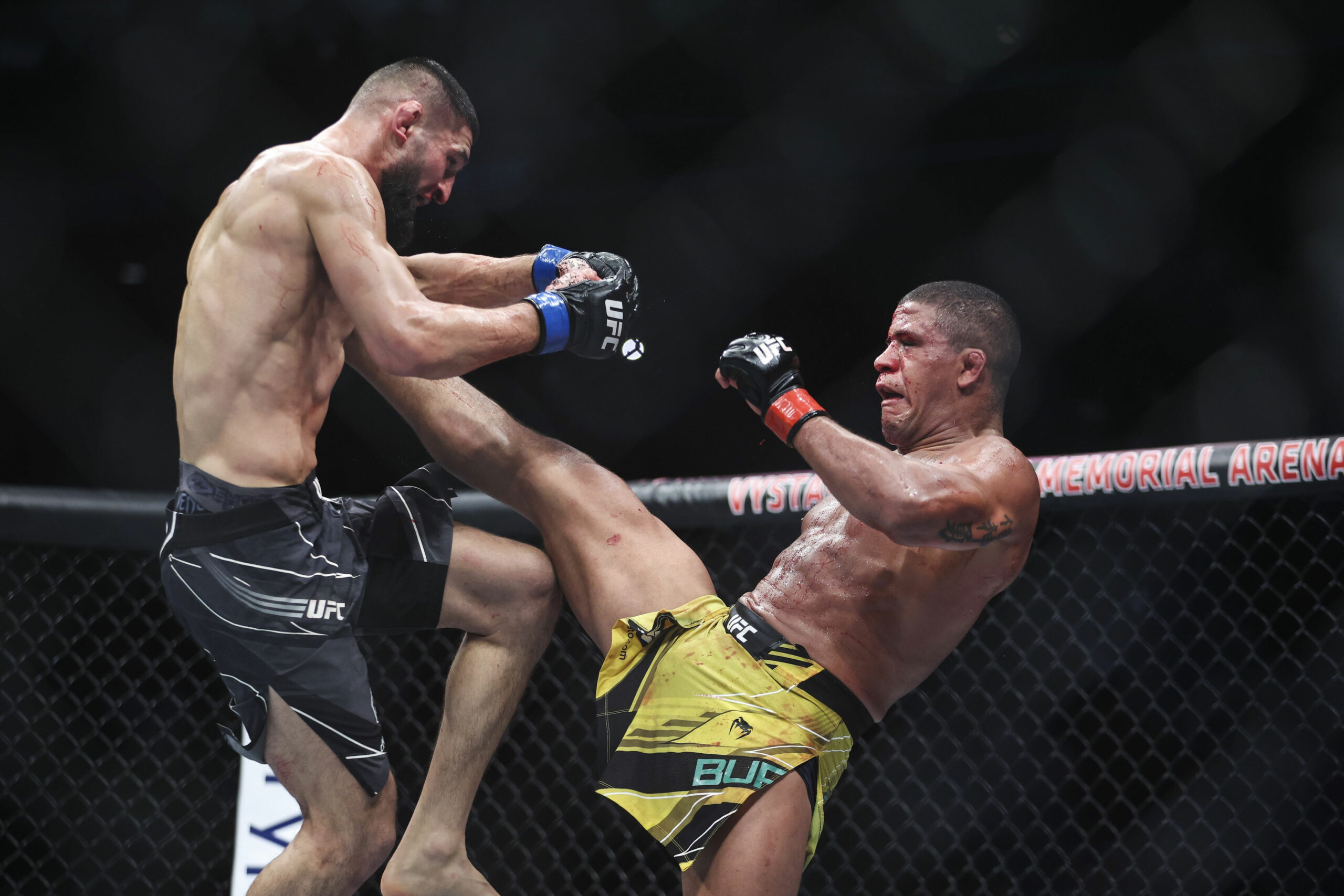 "I'm ready to fight with that guy (Edwards). I want to fight that guy," Chimaev told host Ariel Helwani. "We'll see what's going to happen. But I'm ready.
"I hope in July, but I don't think he'll be ready. He fought [on Sunday] and he's the kind of guy who says, 'I'll fight one time or two times in every year'. He doesn't like to fight too much.
"July, I'm going to fight maybe somebody here in Sweden, 185lbs maybe. October will be a big show in Abu Dhabi – it's like, for me, home country. I like that place. Feels good there.
"He fought last time in his home country, now it's time to come to someone else's country. Come to me, try to defend the belt."
The UFC announced its return last week to Abu Dhabi, although as of yet no bouts have been confirmed.
In a lengthy interview on The MMA Hour, Chimaev said he would be interested in taking on former middleweight champion Robert Whittaker this summer, or former title challengers Paulo Costa or Marvin Vettori.
He mentioned also welterweights Kamaru Usman, Jorge Masvidal, Belal Muhammad or Colby Covington, claiming the latter is running "scared" after Chimaev reportedly agreed multiple times to fight the American.
At present, Pereira holds the middleweight belt having defeated long-time champion Israel Adesanya in November. The Brazilian, 4-0 in the UFC since debuting 12 months beforehand, faces his familiar foe in a rematch at UFC 287 next month.
Chimaev, though, does not see Pereira, a former Glory Kickboxing two-division champion, as much of a threat should they do battle later this year.
"It's the easiest fight for me in the UFC," Chimaev said. "It would last first round, first minute, easy. No punches or nothing.
"That guy has zero wrestling… if you're a kickboxer, and you face someone with kickboxing, of course, you're going to beat that guy. But wrestlers are different."
Asked later if he would be prepared to sit out until Abu Dhabi, Chimaev said: "I don't want to wait. But I feel [the UFC] want to put me against somebody there, maybe Pereira, maybe Leon. I feel like that, but I don't know. So we'll see."