Ravindra Jadeja spins India to series victory over Australia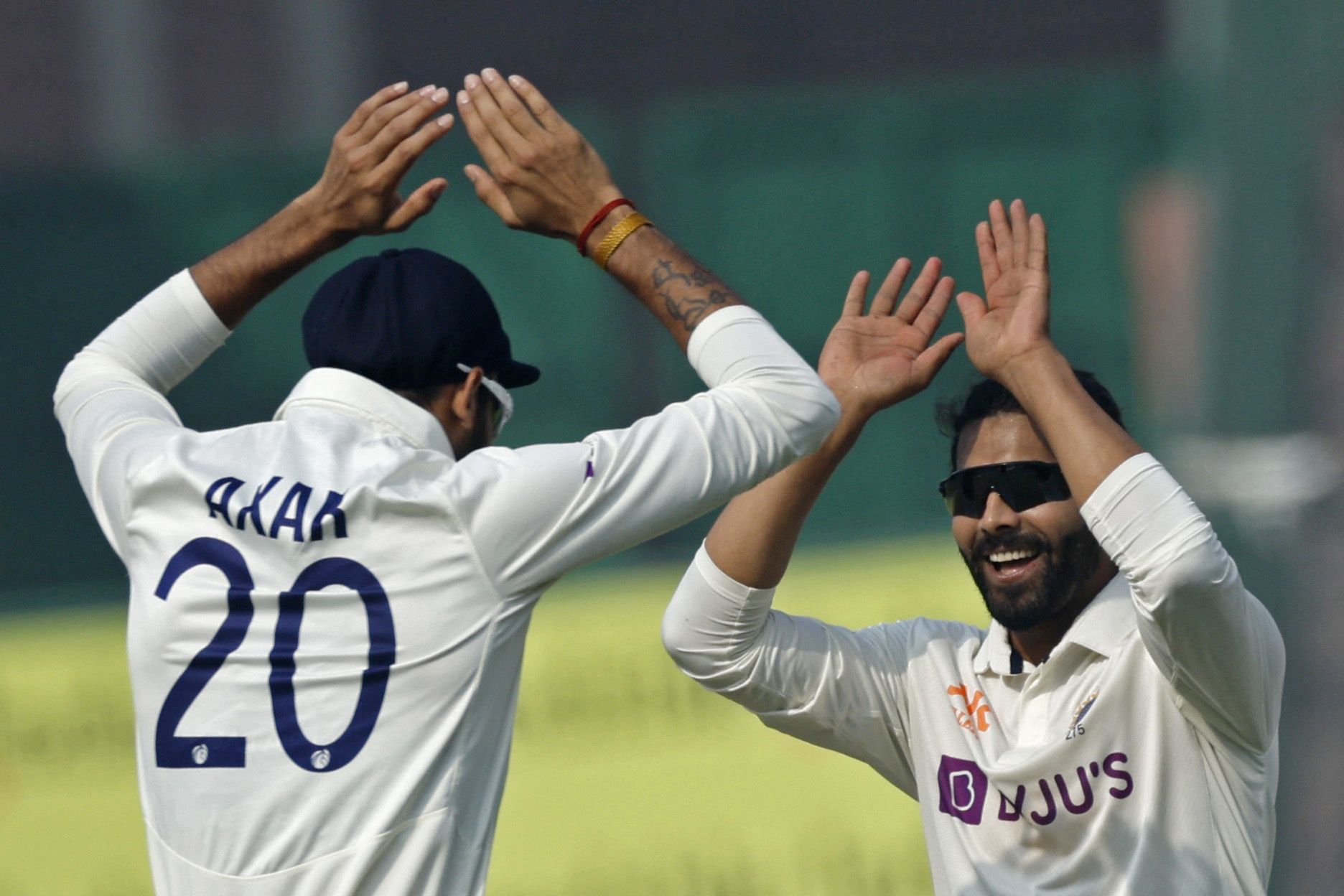 India spinner Ravindra Jadeja took career-best figures of 7-42 to help his team thrash Australia by six-wickets in the second Test and secure a series victory on Sunday.
Jadeja teamed up with fellow spinner Ravichandran Ashwin (3-59) to dismiss Australia for 113 in a morning session when the tourists' batting imploded in spectacular fashion.
The hosts romped to their victory target of 115 in the second session at Arun Jaitley Stadium, guaranteeing that they retain the Border-Gavaskar trophy in the four-match series.
They have won their previous three series against Australia and are now close to securing a spot in the World Test Championship final.
"We were prepared for them coming out and playing shots," captain Rohit Sharma said of his team's bowling plan.
"Our idea was to not panic and just hit the right areas, waiting for the mistake to happen, and that's exactly what happened.
"So our focus was keeping it tight in the morning, and these guys [Jadeja and Ashwin] are the masters of bowling in these conditions."
Captain Pat Cummins admitted Australia's batsmen slipped "away from their methods" after an over-reliance on sweep shots hastened their collapse from 61-1 at the start of play.
Six of the 10 Australian batsmen including Steve Smith (nine) and David Warner's concussion substitute Matt Renshaw (two) fell after attempting the sweep or reverse sweep.
"Disappointed, we were ahead of the game but we slipped," said Cummins after his team's second straight Test loss inside three days.
"Everyone controls their own game, some balls just have your name," he added. "But I think there will be a review. Shot choice, did we go about it the right way?
"I thought they bowled really well, it's not easy out there, but perhaps some guys went away from their methods.
"Each batter has their own way to go about it. I don't think there's any one size fits all rule. Unfortunately, quite a few of us got out with kind of cross-batted shots, which might not be our preferred method."
In their stroll to victory India lost Rohit, run out after a fluent 31, and Virat Kohli, who surpassed 25,000 international runs during his innings, stumped on 20.
Nathan Lyon took two wickets to return a match-haul of seven.
Cheteshwar Pujara stood firm with 31 in his landmark 100th Test to steer his team home with a winning four, as wicketkeeper-batsman Srikar Bharat, unbeaten on 23, looked on.
There was more disappointment for KL Rahul, though, with the Indian batter falling for just one in their successful run chase.
Rahul has failed to go past 23 in his past 10 Test innings and scored just 17 and one in the team's win in New Delhi.
The under-fire batsman remained unlucky in his latest dismissal after his shot hit the knee of the short-leg fielder and the ball lobbed to the wicketkeeper.
Social media was abuzz with memes lampooning Rahul's dismissal. Veteran commentator Harsha Bhogle said it "might be time" for Shubman Gill to replace the deputy skipper in the third Test.
But Rohit said any batsman with potential will be guaranteed an "extended run" with the third Test in Indore due to start on March 1.
"It is not just about KL but anyone," he told reporters. "It was clear from our side that we want him to go out and play his game.
"We are not going to look too much into what one individual is doing, it is about how everyone needs to come together."