12 Breathtakingly beautiful places in Maui
Maui is commonly referred to be the Hawaiian archipelago's "golden child." Maui is the embodiment of the perfect paradise, with volcanoes, jungles, waterfalls, and beautiful sandy beaches. At Haleakala National Park, seeing the sunrise is like a religious experience. There are entertaining shows with wonderfully choreographed traditional ethnic dances commemorating Hawaii's past. In the Feast at Lele, visitors are seated at individual tables in a romantic atmosphere and the sunset adds another magical touch to the evening.
In Maui you will find some beautiful attractions that you just cannot miss! Places like Ka'anapali Beach, Ho'okipa Beach Park, and Kapalua Beach Trail (Dragon's Teeth Trail) and many more. Continue reading to know more.
1. Ka'anapali Beach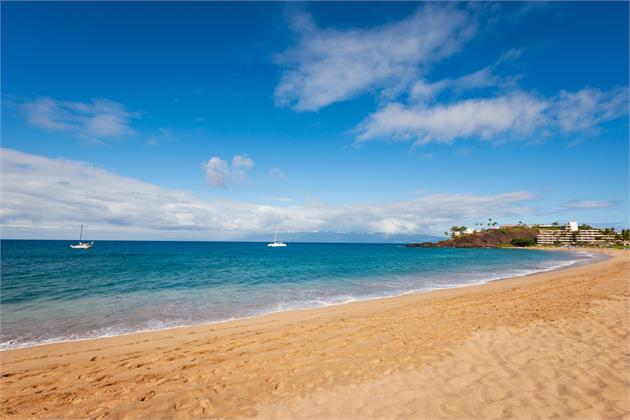 Seven resorts and the Whalers Village Mall front this Hawaii beach. You may go snorkeling and cliff diving at Black Rock, which is located at the beach's northern end. It's no surprise that Kaanapali Beach was crowned America's Best Beach due to its crystal pure ocean.
2. Ho'okipa Beach Park
This beautiful stretch of white sand beach is located on Hâna Highway and is a favourite spot for the locals. The word Ho'okipa means "hospitality," but the waves here can get pretty huge so visitors are definitely advised to be on the lookout. Though not ideal for swimming, it is great for taking a stroll around as you enjoy the beautiful views.
3. Kapalua Beach Trail (Dragon's Teeth Trail)
A trail that begins and ends on a beach, Kapalua is a two miles walk along Maui's northwest coast. One of the more gorgeous areas of the coast, this is an easy hike that offers some of the best views that you'll see in the area. Though fairly short, it is worth a visit.
4. Acid War Zone Trail
Located between the light beacon and the Nakalele Blowhole, this beautiful trail houses many impressive rock formations and rock colors. One of the best things is that you can spot blowholes spouting off along the trail. Since the rocks are slippery, you are advised to wear shoes with a good grip.
5. Wai'anapanapa State Park
This odd yet lovable spot in Maui is not your regular old, picture perfect, white sand beach. It's actually much more. Beyond the black sand shore along the lagoon are interesting places that spirited adventurers can explore. Along the primary trail lies freshwater caves that have natural pools where you can swim. Outside the caves, a heiau (religious temple), sea stacks and blow holes are waiting to be seen and appreciated. You can also go fishing, camping, picnicking and shore fishing in this special paradise.
6. Maui Ocean Center
Visitors should not miss checking out Maui Ocean Center located in Maui. It is an aquarium and oceanography center at the heart of the island. Those who want to see more of marine life as well as learn more about them will surely love the ocean center as it houses various species such as sharks, crabs, turtles, and jellyfish.
7. Napili Beach
The gentle waves that hit this part of Maui is good for all members of the family. Kids or kids-at-heart will definitely have fun going swimming, paddleboarding and boogie boarding. Sea kayaks and snorkels are also available for rent along this coastal paradise. The snorkels are a must-have for those who want to see the diverse and beautiful aquatic life under the nearby sea. Though there is a notable restaurant at this beach, visitors are advised to bring their own snacks or food as the choices in general are limited.
8. Hana Highway
Hana Highway, located in Maui, is part Hawaii Routes 36 and 360. It is a highway that connects different parts of the city as well as make them easily accessible by tourists. It is also a long and winding mountain road where traveling tourists could admire the beautiful scenery of the city is offers.
9. Wailea Beach
Developed in 1971 for its five beautiful, crescent-shaped beaches and golf courses. Since then Wailea has become a luxurious resort community in South Maui. Its total area is 1,500 acres and the bonus of that is the breath-taking ocean views. Exuding a sense of privacy, serenity and freedom this resort has a huge space to roam, like three times the size of Waikiki.
10. Pipiwai Trail
Pipiwai Trail in Hana, Hawaii is located at the heart of the Haleakalā National Park. It features amazing trails and waterfalls like Makahiku Falls. The well known trail is 3.2 km long and is perfect for those who want to admire nature and the scenery. it is also a nice place to unwind and relax.
11. Haleakalā National Park
The dormant shield volcano in this park inspired Hawaiians of past ages to call it "Haleakalā ," which for us means "House of the Sun." This idle natural furnace possesses one of the world's largest volcanic craters. Though naturally impressive for fans of geology and earth science, this park also has something for the outdoorsy types. Its wide variety of hiking trails that lead up to the volcano caters to both beginners and experts. Magnificent views are also available at the 10,000-foot high rim of the sleeping volcano. Visiting the "House of the Sun" at sunrise, which is highly recommended, requires online reservations from recreation.gov.
12. Keawakapu Beach
One of the most tranquil beaches in Maui, it is known for its picturesque scenery. This is a great place for for walking, swimming, boogie boarding and even snorkeling. Popular with both the tourists as well as the locals, it is also the perfect spot for watching a beautiful sunset.
Learn more about the best travel deals here!