Munich Security Conference shows unity on boosting Ukraine's war effort
Germany led a show of support for Ukraine in its war against Russia on Friday by calling for countries to transfer as many tanks as available to the frontline as President Volodymyr Zelenskyy said supporters must "hurry up" to end the conflict.
The Ukrainian president told the Munich Security Conference that his country's David and Goliath struggle against the invading forces was still dependent on the backing that he had pleaded for in person last year in Munich, just days before the invasion.
"Delay has always been and still is a mistake," the Ukraine leader said. "We need to hurry up. We need speed — speed of our agreements, speed of our delivery, speed of decisions to limit Russian potential. There is no alternative to speed because it is the speed that the life depends on."
Mr Scholz said it was wise to prepare for a long war and that giving President Vladimir Putin the message that Ukraine's allies were united and giving the best support they could was the surest way to ending the aggression.
Calling the Russian war uncharted territory in which a nuclear power was pursuing a war of aggression on its neighbour, Mr Scholz said caution took priority over hasty actions so that unity between allies be preserved. Having been criticised for a slow decision making on sanctioning tank deliveries, Mr Scholz noted other European countries had not followed through. "All those who can supply battle tanks must now do so," he said. "Germany is now canvassing for this."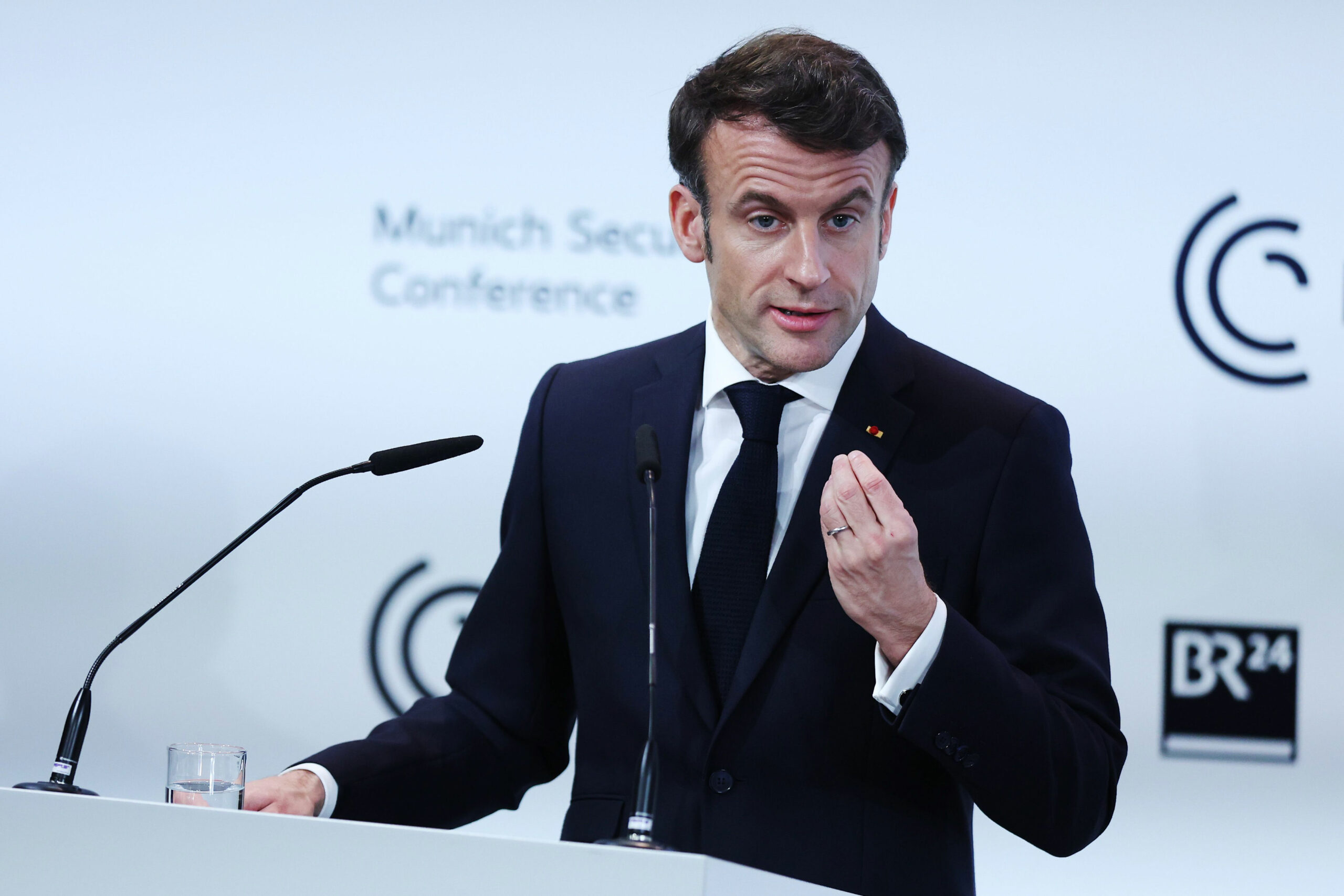 Mr Zelenskyy had a warning on the conflict's fallout beyond Europe when he said that the implications of Iranian drones supplies to the Kremlin's forces was spilling over into nuclear threats. In return for "lethal Iranian drones" in Ukraine skies, the Ukrainian leader said it was possible the world would face an "enriched uranium regime". "No one of us wants let the region of the Middle East face this," he said.
In a wide-raging address Emmanuel Macron, the French president, said there was a spectre from the nuclear sphere that had emerged from the war.
"There is a nuclear aspect of this matter, non-verbalised questions in this war, and nuclear issues are one of these," he said.
Noting that Russia was always going to be a European country, Mr Macron said the countries of the region had to make a credible commitment to the end the colonial mindset that launched the attack on Ukraine.
"We must provide help so that Ukraine itself launch a counter-offensive, which alone can allow credible negotiations, determined by Ukraine, its authorities and its people," he said. "We have to remain credible to for a long war."
Only Germany and Portugal have so far committed to sending the more modern A6 version of the Leopard 2 tank, while Poland is leading efforts to put together a battalion of the older A4s, equivalent to 31 machines.