Turkey's engineers tell of unheeded warnings that turned buildings into death traps
Follow the latest news on the earthquake in Turkey and Syria
The shocking trail of destruction stretching across southern Turkey has horrified the world since last week's earthquakes but in many ways it was a catastrophe long foreseen by the country's engineers and geologists.
For years experts have been warning that slipshod building practices and a lack of regulatory oversight would compound loss of life when a powerful earthquake eventually hit. Their warnings went largely unheeded.
"We have been discussing these things and sharing our information for years with the authorities but we weren't taken seriously," Taner Yuzgec, president of the Chamber of Construction Engineers, told The National.
"In relation to the earthquake threat, 65 per cent of buildings in Turkey are considered risky. In 2011 a strategic plan to identify all the dangerous construction was put in place. This should have been completed by 2017 and those at risk should have been brought up to standard or demolished. Unfortunately, that wasn't carried out."
More than 41,500 buildings collapsed or were damaged enough to require demolition across the 10 provinces affected by the 7.8-magnitude quake, according to the Environment and Urbanisation Ministry. The death toll in Turkey reached nearly 32,000 by Tuesday afternoon as the Turkish Enterprise and Business Confederation estimated the economic cost at $84.1 billion.
Turkey is crisscrossed by two main fault lines, leaving it prone to deadly quakes. But despite regular disasters, such as the one that struck Elazig three years ago, killing 41 people, or the quake that hit Izmir in 2019, killing 116, criticism has been aimed at current building standards.
After a 1999 earthquake that struck east of Istanbul, killing about 18,000 people, legislation was passed to tighten construction standards and building inspection. However, weak enforcement of building codes have undermined efforts to tackle the danger.
In 2018 the government granted amnesties to those breaching regulations, allowing the owners of dangerous structures to pay a fine to avoid having to bring their buildings up to standard.
"There have been a lot of mistakes in the construction industry," Mr Yuzgec said. "There are problems with design, with the materials used and with the use of workers who aren't properly qualified.
"We see the 'soft-floor' system' where shops are on the lower floor of buildings and also we've seen buildings collapse into each other. Many buildings are built on soft ground without deep enough foundations. So there are many issues that make buildings unsafe."
In many cases, residents have said shops and other businesses on the ground floors of apartment buildings have cut-away support columns to increase floor space.
In Diyarbakir, a block of 32 apartments sitting above commercial space collapsed while three other blocks in the same complex remained upright.
"Everyone knows they cut the columns in the ground floor and there was a legal case opened against them four months before the earthquake," said Veysi Buldu, 58, who lost his uncle in the building.
"That is why one block fell and the other three are still standing."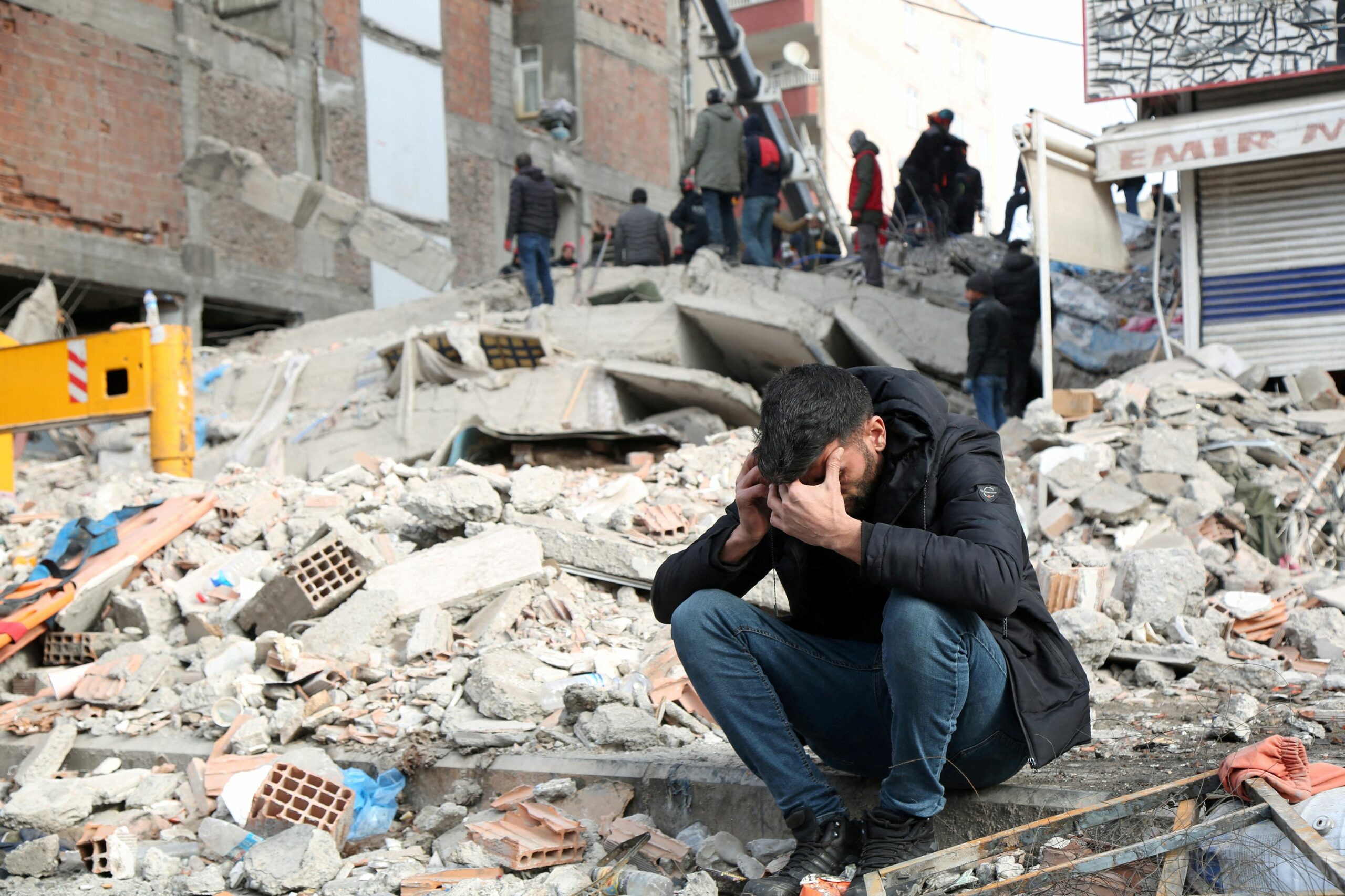 At other collapsed buildings around the city, where at least 380 people died, residents shared similar stories of businesses below residential floors making dangerous alterations to the building's structural integrity.
"Profit maximisation is considered the first priority and safety comes later," said Mr Yuzgec, who recently returned from the earthquake zone.
A building contractor in Diyarbakir, who asked for his name not to be used for fear it would lead to him being blacklisted for work, said illegal practices were widespread in the industry.
"I've worked all over the country — here, Ankara, Istanbul, Antalya — and it's the same everywhere," he said. "The main contractors are always asking us to cut costs, even if it is illegal and risks lives.
"They want to use cheaper materials or not to install so many columns or beams. If we say that it is against the law, they just say: 'Don't worry, we'll pay the fine.' I refuse to work with some companies because of this."
At least 134 people have so far been detained as part of a series of investigations into building standards since the earthquake on February 6, Justice Minister Bekir Bozdag said on Sunday, while another 114 are being sought. Some of the suspects were arrested at airports, apparently attempting to flee abroad.
But there is a growing clamour for the public officials who turned a blind eye to shortcuts to also face justice.
"The primary crime is that committed by the contractor but there are also the people who were responsible for the project, the building site chief and those signing papers in the municipality," said Mr Yuzgec.
"I think this legal process will become wider and wider over time. However, the local or national politicians are the biggest criminals because they are the ones who continued this system."
The destruction of last week's quake has raised fears of future tremors across the country, particularly in Istanbul, a city of 16 million sitting near the North Anatolian fault.
"We could not make Istanbul earthquake-resistant in 20 years because there was no will," said geologist Naci Gorur, a member of Turkey's Academy of Sciences. "If we are going to prepare Istanbul for an earthquake, the first thing we need to address is the building stock. Buildings should not collapse or kill people."
But those whose warnings were ignored for so many years are pessimistic about the possibility of serious reform.
"There are a lot of things that should be done immediately, even tomorrow, but for this to be successful a very strong political will is necessary," Mr Yuzgec said. "Because we don't have that political will today, I don't have much hope that things will be done."