Button left "speechless" after first Garage 56 test run, says Johnson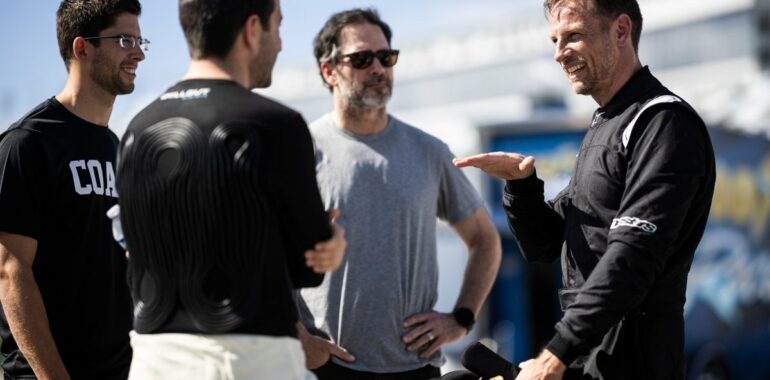 Johnson, former Le Mans 24 Hours winner Mike Rockenfeller and 2009 Formula 1 world champion Button all drove in a two-day test at Daytona International Speedway's Road Course following last month's Rolex 24, which included a 12-hour simulation and nighttime running.
Rockenfeller and Johnson had taken part in previous tests of the car, while the Daytona test was Button's first time in the vehicle.
"It was great watching Jenson climb out of the car for the first time," Johnson said. "He was speechless for a while and his eyes were so big. He's like, 'How can it have so much power and so little grip?'
"And I said, 'Welcome to NASCAR. That's what this is about.' It's a fun group of people to be around."
Garage 56 Testing
Photo by: James Gilbert / Getty Images
The group will next embark in a 24-hour test of the one-off stock car at Sebring International Raceway. Garage 56 is the entry that the Automobile Club de l'Ouest sets aside for the "technology of tomorrow and beyond" of innovative machinery in the Le Mans 24 Hours.
NASCAR's entry is a modified version of the Next Gen Chevrolet Camaro ZL1 race car which is a collaboration of NASCAR, Hendrick Motorsports, Chevrolet, IMSA and Goodyear.
"Everybody is different in what they sense and feel and then what their mind focuses on," Johnson said of the testing program so far. "Then to watch Jenson evolve – he's never driven a vehicle like this before. They've always been formula cars.
"By the end, we had a great sense of the car's potential and ability. I think even as he pulled it back, [Button] was still two steps over what the car was capable of. Once we got him back in the window, he's like, 'Oh, here's where the difference is.'"
Jenson Button
Photo by: Garage 56
Sportscar ace Jordan Taylor has been assisting the NASCAR group in its preparations for the June 10-11 endurance classic. Johnson said Taylor picked up on several items at Daytona that the group had not previously addressed.
Speaking about the upcoming Sebring test, project manager Chad Knaus told Motorsport.com: "The goal is to run 18-24 hours straight at Sebring.
"If you can do that at Sebring, you're getting pretty close [to what's expected at Le Mans]. And we'll be sharing the track with some other classes of cars there, so that will be good for us to get around cars, to pass and be passed."
Read Also:NASCAR Garage 56 reveals Le Mans headlights setup in Daytona"Huge asset" Button adds NASCAR Garage 56 driver change hurdleJohnson on Button running NASCAR Cup races: "I think I can talk him into it"