Exclusive: How Indian shuttler Tanisha Crasto became an inspiration to Dubai kids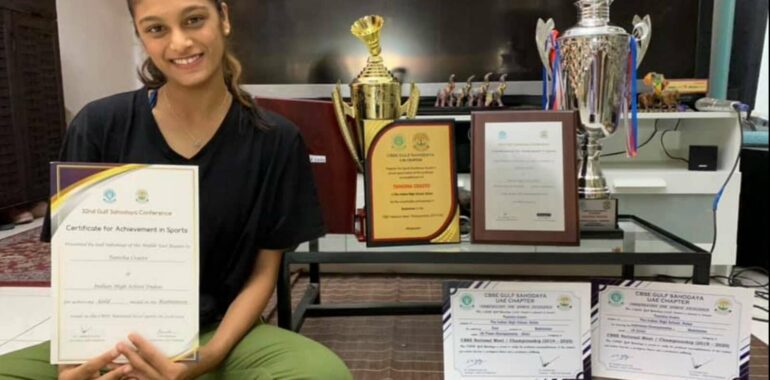 Fourteen years ago when Tanisha Crasto, then all of five, picked up a badminton racquet for the first time in Dubai's Etisalat Academy, she was too young to comprehend the intricacies of the sport.
Tanisha was just happy with a few hits on the court.
Slowly, jaws dropped at India Club as her combination of powerful smashes and delicate drop shots began to weave magic.
The prodigious talent was beginning to take the UAE badminton by storm.
However, Tanisha was meant for bigger things and she left Dubai for India in 2017 to take her game to the next level.
Living away from her parents wasn't easy, but Tanisha showed grit in a demanding and highly competitive environment.
She soon became one of India's finest young players, and even represented Team India at the junior world championships before successfully making the transition to the senior level.
A doubles specialist, Tanisha was part of the Indian squad at the Thomas and Uber Cup in Thailand last year.
The 19-year-old Tanisha won her first piece of silverware at the senior level when she claimed the mixed doubles title at the Syed Modi International with Ishaan Bhatnagar.
Now Tanisha will be aiming for her first piece of silverware with the Indian team at the Badminton Asia Mixed Team Championships (February 14 to 19) in Dubai.
It's an event that has made Tanisha nostalgic and emotional as she will be returning to a city where she took her baby steps in the sport.
"I think it's one of the best feelings that I could ever experience. I would be playing for India, but I would be playing in my home ground, Dubai. It's a feeling that I never really experienced. So it's something really new and fresh," Tanisha told the Khaleej Times over the phone.
"I am so, so excited because I was born and brought up in Dubai and this is where I actually became Tanisha Crasto!"
Tanisha expects a large number of her old friends and playing partners in Dubai to cheer for her and Team India at the Expo City-Dubai Exhibition Centre, the venue for the Mixed Asia Badminton Championship.
"Of course, I expect a lot of people to be at the stadium, even though a lot of my school friends from Indian High School where I studied, have now gone abroad for their college education," she said.
"But a lot of school friends, who are junior to me, will be there, a lot of people that I played with at the Indian Club would definitely come to cheer for me."
Tanisha then revealed why playing in front of her friends in Dubai means so much to her.
"A lot of these families, their children now look up to me. I am really happy that I am an inspiration to people," she said.
"And I want to do so much more on the court so that I am an inspiration to many more kids because it's a very beautiful feeling. I want to be a greater example for them."
Tanisha now also counts a legend of the sport among her admirers.
That legendary figure is none other than PV Sindhu, the two-time Olympic medallist.
Sindhu, who famously won the 2019 World Championships gold medal, has been hugely impressed with the progress made by the Dubai-born Tanisha.
"I know Tanisha for quite some time now, she is a very sweet girl. She works very hard and she is doing really well for herself in doubles and mixed doubles, she has played some amazing matches recently," Sindhu told Khaleej Times.
"I mean people looking at me, people taking me as an inspiration, I really wish, with my knowledge, I would definitely pass it on and I would tell young players like Tanisha that you need to always work hard to come to the top level."
Tanisha revealed how Sindhu has helped her deal with some of her toughest moments in badminton.
"She is a really very beautiful person. I have learned so much from her. There were so many times when I was really down. But she stepped in and motivated me." Tanisha said.
"She is so full of spirit and she is so hard working that a lot of players that look up to her would only work even harder.
"She also is a very sweet person, even if you are complete stranger and if you go up to her, she would speak to you so nicely. That's why she is such a big role model for us," added Tanisha before showing her admiration for Sindhu's leadership qualities.
"She even took all of us, the whole women's team, for dinner when we went to Thailand for the Thomas and Uber Cup last year. It was her idea so the players get to know each other better, and we could build team unity," she said.
"It was all shocking for all of us that our team leader and the big star was really putting in so much effort.
"There was never a time when she was away from us, she was always with us. She was one of us!"
It will indeed be a proud moment for Tanisha when she steps onto the court alongside Sindhu to represent Team India in Dubai, her 'home ground'.