Thousands turn out in Abu Dhabi and Dubai to pack Turkey-Syria earthquake relief aid
Follow the latest on the earthquake in Turkey
Thousands of volunteers provided a vital helping hand in Abu Dhabi and Dubai on Saturday for people affected by the earthquake in Turkey and Syria.
Volunteers from all nationalities packed into boxes vital supplies such as dry food, blankets and toothpaste for survivors of the disaster, at Abu Dhabi National Exhibition Centre and Expo City Dubai's exhibition centre.
The UAE initiative — called "Bridges of Giving" was organised by the Emirates Red Crescent and supported by several other charitable organisations, such as Dubai Cares and Sharjah International Charity.
"I found out about this initiative through the UAE volunteers app, and registered online right away, " said Nazia Afrin, a student at Abu Dhabi University, who took part in the event in the capital.
" I then rallied my friends to sign up as well and take part."
Syrian citizen Reem Al Azem drive down from Dubai, after she couldn't register on Dubai cares website, due to the overwhelming number of volunteer applicants.
"I needed to give back somehow. thankfully, my family is safe as they live closer to Damascus, but we are all feeling the sense of urgency to send out whatever help and aid we can, " Ms Al Azem said.
Among the volunteers, was a row of tables set up for young students of the British International School Abu Dhabi, who were sending out postcards to the children affected by the earthquake, filled with words of love and encouragement.
" We are very fortunate that our young students are always keen to support those in need," said Bisad's principal Liam Cullinan.
"It's part of their DNA."
Catherine Lester and her eight-year-old daughter Alexandra were filling out many postcard, with Alexandra drawing big red hearts all over.
"As a United Nations employee, I make sure that my daughter understands from a young age, there are many people out there who will always need our help and support,' said Ms Lester.
"Alexandra is quite occupied right now with sending love hearts to them."
Soon after 10am, the halls were overcrowded by volunteers prompting the ERC to establish a new plan to ensure that every one had a part to play.
"With five large assembly lines in place in one of Adnec's halls, we decided to let 10-15 people work on each line and package about 50 boxes and then leave, to give other volunteers to participate in the packing efforts," said Hamoud Al Junaibi, ERC's Secretary-General.
Palestinian Rasha Khalil said this volunteer campaign brought back so many memories of the UAE always at the forefront of setting up aid initiatives to give support and aid to those suffering in the region.
Envoys hail UAE support
Dr Hamdan Al Mazrouei, chairman of the board of directors of ERC was seen on the floor of the packaging site, along with Tugay Tuncer, Turkey's Ambassador to the UAE and Syrian charges d'affairs, Ghassan Abbas.
Mr Tuncer thanked the leaders of the UAE and the government have been leading in relief efforts.
"The UAE has done so much from the very first day, and has been one of the very first countries to respond, Today, I witnessed another form of support with all these volunteers, its quite emotional."
"For Turkey to feel this support its very important."
Helpers descend on Dubai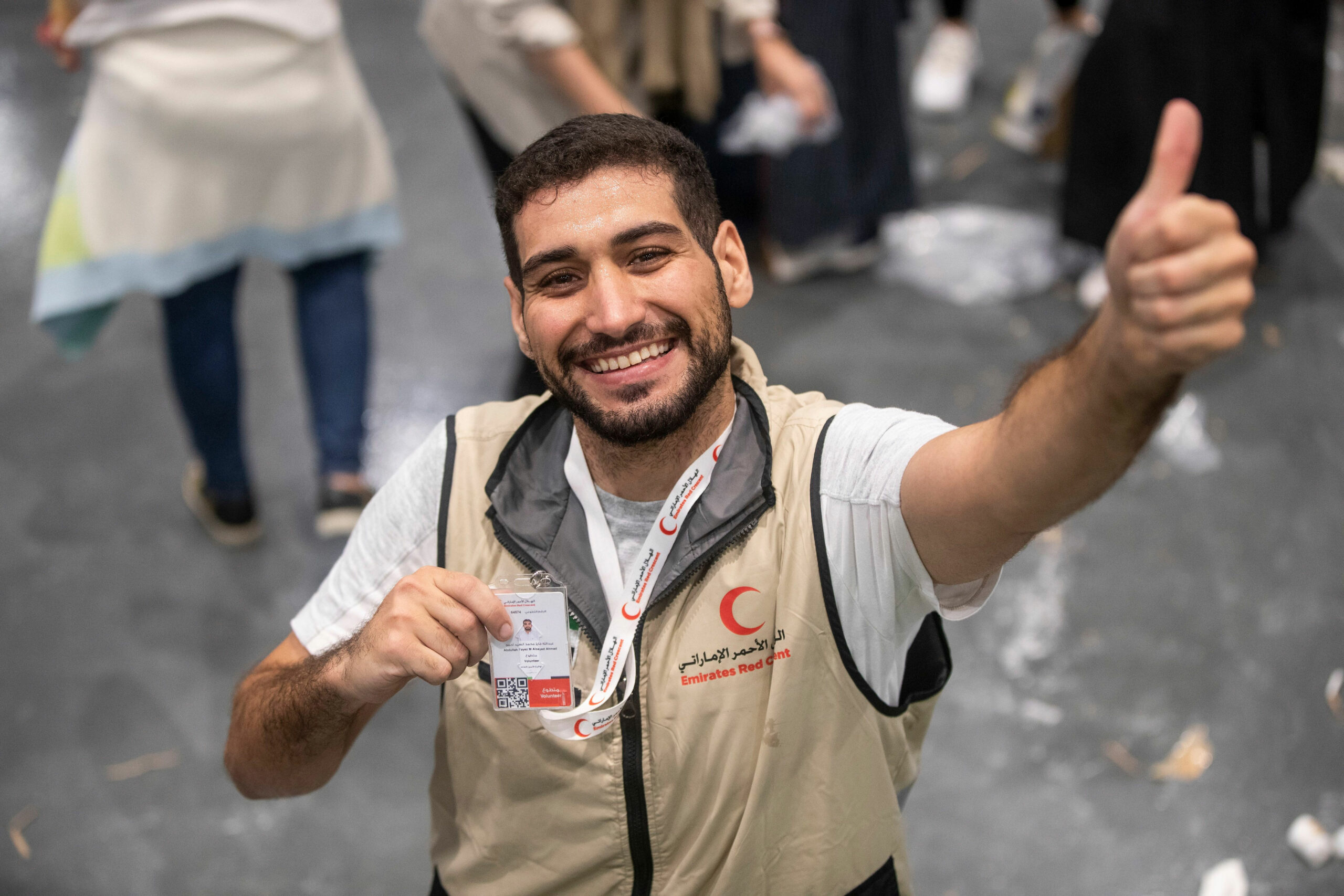 Organisers at Expo City Dubai were grateful for the huge outpouring of support.
From 9am, volunteers waited to enter the halls where organisers set up several assembly lines.
Five were dedicated to food and two more for hygiene items and winter clothing. Each box moved down the line, was filled and then stacked on crates. From there they were sent to warehouses before being shipped to Turkey and Syria.
"I feel the pain of the people and I wanted to come," said Zahida Sattar, one of the volunteers.
"It is a good cause and I brought my daughter to help as well. This will reach the right people at the right time. It is about helping one another."
Officials plan to send an equal amount to both countries and figures for how many boxes were packed are expected to be announced later.
"It is a very special cause," said another volunteer, Anu Telikicherla. "It could happen to anyone, anywhere. It is part of humanity to help one another."
The packing drive was scheduled only for Saturday but over the next two weeks ERC is spearheading a donation campaign to further assist those affected. Members of the public can donate on the ERC website.
"People have come here from the early morning so they are supporting and are giving," said Rashed Ali Alyammahi, the head of the ERC's fund-raising department. "It is a challenge but we have the manpower. We call on people to help and give. This is the need."
Other volunteers spoke about how emotionally affected they were at seeing what has happened in Turkey and Syria and how inspiring it was to see volunteers come out.
There was also a corner where children could write messages of solidarity to those affected with notes appearing in Turkish, Arabic and English. "The UAE is praying for you," stated one, while another went: Hello Syria and Turkey, we are with you, all of the world are with you."
More than 23,000 people have been killed in Turkey and Syria and rescue efforts are continuing.
Abdulla Al Shehhi, chief operating officer of Dubai Cares, said the response from the UAE community had been "overwhelming" but this was not a surprise.
"The number of registrations for volunteers closed within an hour because of numbers interested," he said. "We had to open more spots for people to come."
"It is a huge crisis in two countries. Every day there are new statistics for numbers of missing or dead. This is a real devastation."
Saturday's drive was part of the UAE's large response to assist. Authorities have sent field hospitals, dispatched aid and flown expert rescue teams to the affected areas. People were still arriving to help in Dubai hours after the doors opened determined to do whatever they could top assist those most in need.
"I like the whole spirit of Dubai coming together as a community," said Ms Telikicherla. "This is the least that I can do. My girl goes to an international school, where her best friend is from Turkey. It is our way of giving back."
Emirati search and rescue teams continue search for earthquake survivors — in pictures