The Kei Car Is A Japanese Phenomenon That Is Still Going Strong
The little cars are still popular in Japan and refuse to disappear in these changing times.
Once again, the Japanese new car market was dominated by Kei cars. These microcars are designed, built, and sold exclusively for Japanese consumers, and despite the rise in popularity of other body styles such as SUVs, they are simply too popular to die.
According to the latest data from JATO Dynamics, Kei cars sold 1.17 million units in Japan last year. Even though volume is down 4 percent from 2021, these iconic vehicles have gained market share within the passenger car market in Japan. Their share rose from 33.4 percent in 2021 to 34.1 percent in 2022. In other words, more than one in three new passenger cars sold in Japan is a Kei car.
Why Are They So Popular?
In short, they are affordable to purchase and maintain. Kei cars are an essential element of the Japanese automotive industry. They keep local factories alive and help maintain a strong sense of local pride amid the many products built for export.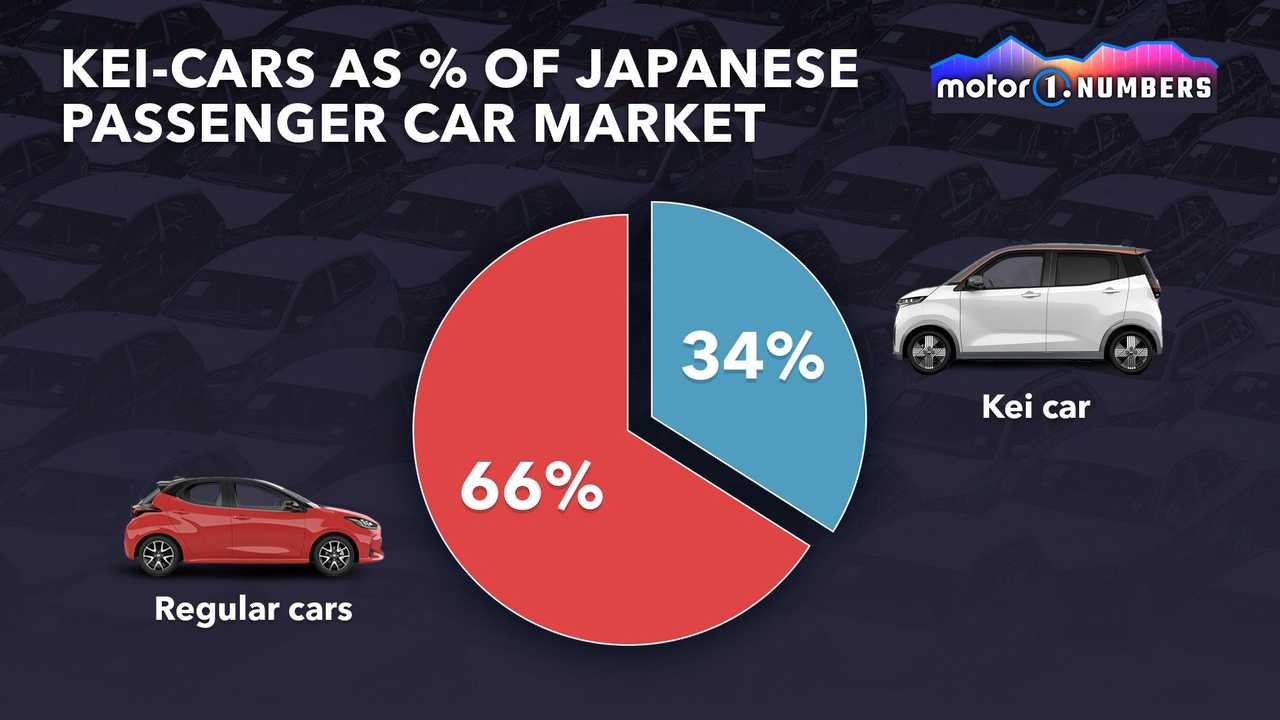 The Japanese government has created specific legislation that aims to stimulate local production and sales of these small cars. The aim is to make better use of the limited space on the streets of this already crowded country. With no large parking spaces and high energy costs (Japan depends heavily on energy imports), Japanese drivers need small, efficient cars to get around their cities.
Who's Who In The Kei Car Market
To be classified as a Kei car a vehicle must not be longer than 11 feet (3.4 meters), wider than 4.9 feet (1.48 meters), and taller than 6.6 feet (2 meters). In addition, the vehicle must be powered by an engine with a displacement no larger than 660cc. This specific legislation has forced local brands to create specific cars for the Japanese market that have no potential outside Japan.
As a result, the entire Kei car segment consists of Japanese brands. Japan's top eight companies are the only ones selling these cars. And guess what? Toyota is the second smallest in terms of sales volume, not at all a segment leader.
In 2022, that honor went to Daihatsu, the sister brand of Toyota, with nearly 349,000 units sold(excluding light commercial Kei cars). This is a market share of almost 30 percent. In second was Suzuki, known worldwide for its small cars. This brand sold 336,200 units, down 6 percent from 2021. In third position is Honda at 263,200 units, up 1 percent. From there, the "smaller Kei car companies are Nissan, Mitsubishi, Mazda, Toyota, and Subaru.
The Honda N-Box In The Lead
The most popular Kei car in 2022 was the Honda N-Box. The latest update allowed this car to increase sales by 7 percent, reaching 202,200 units. This is almost double the volume sold by the second-placed Daihatsu Tanto. In fact, Daihatsu managed to outsell the Suzuki Spacia, the second most popular in 2021 and third in the 2022 ranking.
But the big surprise in terms of volumes and novelties was the Nissan Sakura. It was launched last year as the first all-electric Kei car in Japan. The brand sold nearly 21,900 units of this cute EV, meaning it was still far from the leaders. However, as is happening with big trucks in the US and large MPVs in China, the Sakura is just the beginning of a new era for iconic Japanese small cars that you probably won't see on your city streets.
More Motor1 Numbers:
The Best-Selling Cars In Europe: Peugeot 208, Dacia Sandero, VW T-Roc
The Best-Selling Cars In The World In 2022
The author of the article, Felipe Munoz, is an Automotive Industry Specialist at JATO Dynamics.