Zelenskyy framed by winter sun as he offers steely message of Ukraine's thanks to the UK
The streams of light pouring into the medieval room through the giant stained glass window in St Stephen's Porch created a poignant setting for Volodymyr Zelenskyy as he made a witty and defiant address to the great hall of the Westminster parliament.
Powerful words delivered in not flawless but passionate English echoed off the grey and cold flagstones to an enraptured audience of MPs and statesmen. The great chamber has been addressed by Nelson Mandela and Barack Obama, among a handful of speakers from the steps, but only one cut a battlefield demeanour – the fatigues-wearing leader of Ukraine.
The historical significance of President Zelenskyy's address to the UK Parliament was tangible in Westminster Hall on Wednesday with hundreds of MPs lined up in the deep well to watch the wartime leader, who personally thanked them for their support.
The solidarity of the moment was emphasised by the way that lawmakers huddled together in front of the steps. They craned their necks forward as one, keenly awaiting the Ukrainian president's first visit to Britain since Russia invaded his country almost a year ago.
Many donned thick coats to shield themselves against the cold in the hall and eagerly awaited the arrival of the man some have come to regard as a modern-day Winston Churchill. Greeting their special guest with rapturous applause, politicians looked on with a mix of appreciation and awe as the Ukrainian president ascended the platform.
The sunshine that spilled though the grand window had the effect of also emphasising how tired he looked. It was something that was an appropriate framing of Mr Zelenskyy as he invoked memories of the Second World War when he said the UK and Ukraine "have already fought together against such evil".
'We will always come out on top of evil.'

President Volodymyr Zelenskyy
"It is impossible to completely erase evil from human nature," he said, as MPs watched with laser-sharp focus. "Yet it is in our power to guarantee with words and deeds that the light side of human nature will prevail.
"You and us share this stance above anything else."
Throughout this speech, MPs clapped at serval intervals including when he personally thanked them for showing leadership in the face of Russia's aggression towards Ukraine and the wider West.
"You were among those very few who helped before [the] large scale invasion began," he said, referring to the British Army's training of Ukrainian troops in the lead up to February 24 2022.
Ukrainian President Volodymyr Zelenskyy visits the UK – in pictures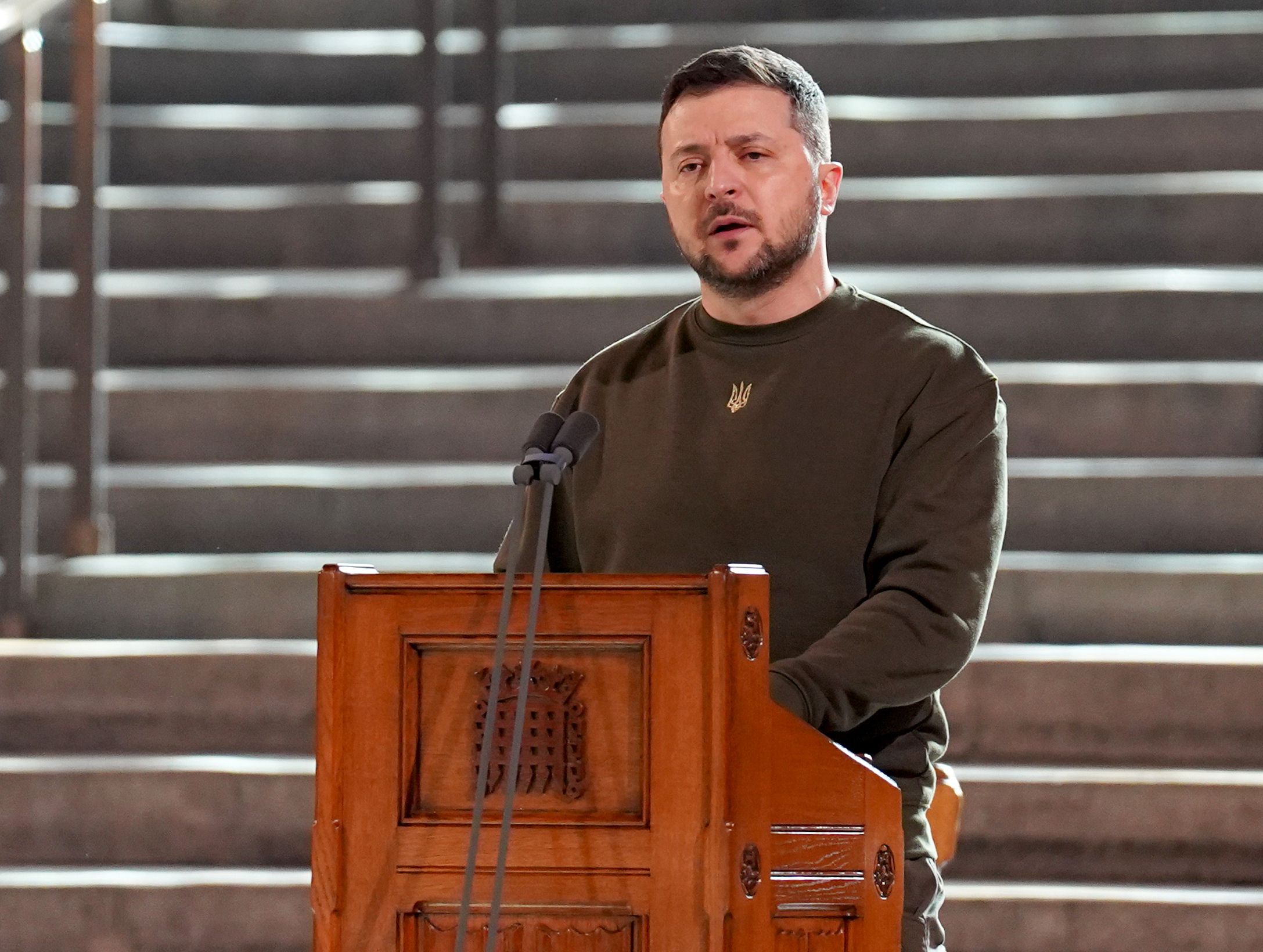 He further drew on similarities between the UK and Ukraine, saying both nations have stood on the right side of history.
His war-ravaged nation "will always come out on top of evil", he declared, prompting another round of applause from the crowds.
"This lies at the core of our, and also your, traditions," he added.
His light-hearted comparison between King Charles III and Ukrainian Air Force pilots drew laughs from MPs.
Lawmakers, many standing shoulder to shoulder with those from other political parties, smiled and clapped as their guest of honour joked that those behind the wheels of Ukrainian fighter jets were just like the British monarch.
"In Britain, the king is an air force pilot and in Ukraine today every air force pilot is a king," Mr Zelenskyy quipped.
His presentation to the UK of a helmet belonging to one such pilot was a powerful symbol of his gratitude to Ukraine's ally for its steadfast support.
Sir Lindsay Hoyle, the Speaker of the House of Commons, graciously accepted the gift before holding it up to MPs.
The Ukrainian leaders used the moment to issue a plea to Britain to send fighter jets to Kyiv's forces to help them repel Russian fighters.
"We have freedom; give us wings to protect it," he said.
Onlookers nudged forward on their toes to catch a glimpse of Boris Johnson, the prime minister at the start of the conflict last February who was ousted by the very same MPs later last year. There was no dissent however when Mr Zelenskyy singled out the Conservative former prime minister for his help and solidarity from the outset of the war.
"Boris: you got others united when it seemed absolutely impossible. Thank you," he said.
He also extended his thanks to Prime Minister Rishi Sunak, who had earlier hosted him in his Downing Street flat for a continental breakfast.
"Thank you so much Rishi for inviting me and for me great honour to be here in Britain," he said.
After delivering his speech, Mr Zelenskyy descended the steps where he shook hands with MPs. After extending his hand to Mr Sunak, Labour leaders Sir Keir Starmer and others, all eyes diverted to Mr Johnson. The two men formed a close-knit bond during Mr Johnson's tenure in No 10 which was evidenced during Mr Johnson's multiple visits to Ukraine.
While Mr Zelenskyy hastily shook hands with members of Labour's shadow cabinet, former Conservative prime ministers Theresa May and Liz Truss, his unique relationship with Mr Johnson was plain to see for all.
With his signature tossed blonde hair, Mr Johnson smiled at his pal and was given a few moments to chat to him.
Mr Zelenskyy showed his appreciation by placing a hand on Mr Johnson's shoulder. A small gesture, but powerful nonetheless, for the man he had hailed for rallying Ukraine's allies in its hour of need.