Why so many buildings collapsed in Turkey earthquake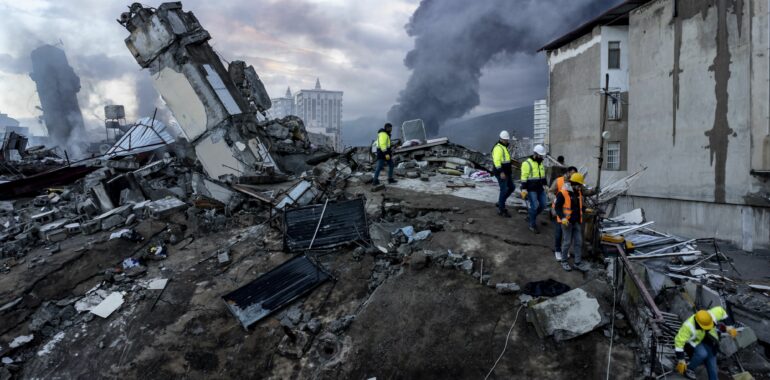 Follow the latest on the earthquake in Turkey
The 7.8-magnitude earthquake that hit Turkey in the early hours of Monday morning is not the first to cause devastation in the country.
Much of Turkey lies on fault lines meaning that small and moderate earthquakes are common.
Monday's quake brought down at least 6,000 buildings across the 10 provinces of Turkey, including hospitals and other public premises. The true scale of the damage and death toll is still being assessed.
But the threat has been well-known for years.
Earthquake researchers say there is a 95 per cent chance that an earthquake of magnitude 7.0 or stronger will strike Istanbul within the next 70 years. Such an event, they warn, would be likely to destroy at least 194,000 buildings and leave at least 10 per cent of the city's 15 million inhabitants homeless.
Following Turkey's last major earthquake, which hit Izmir in 1999, killed over 17,000 people, left another 50,000 injured and 500,000 homeless, Recep Tayyip Erdogan, who was then prime minister and is now President, took action.
Turkey's government passed legislation in 2004 mandating that all new construction met modern earthquake-proof standards.
Mr Erdogan made strong construction a political priority after another quake struck the Aegean coast in 2020, killing 114 people.
And yet experts say that the years of rapid, loosely-overseen development since the laws were passed means they may not have been enforced. That is on top of those built before they came into force.
The construction of buildings was also not "really adequate for an area that's susceptible to large earthquakes", Roger Musson, honorary research associate at the British Geological Survey, told AFP.
Joanna Faure Walker, head of the University College London's Institute for Risk and Disaster Reduction, called for Turkey to check whether the legislation had been adhered to in light of the latest disaster.
She also urged Turkey to review "whether there is the possibility to improve the safety of older buildings".
Carmen Solana, a volcanologist at the UK's Portsmouth University, said that because earthquakes cannot be predicted, tremor-resistant buildings are crucial in affected areas.
"The resistant infrastructure is unfortunately patchy in southern Turkey and especially Syria, so saving lives now mostly relies [on efforts to rescue survivors]," she said.
In Istanbul, Tayfun Kahraman, then head of the municipality's Earthquake Risk Management Department, told Reuters in 2020 that "we do not believe that building regulations were applied correctly in Istanbul in the past". However, he insisted that was changing.
"If strengthening the structures is determined to be a practical intervention, then this will be offered as a solution," he said at the time.
So what can be done to prevent a building from collapsing?
In Japan, all buildings — even temporary ones — must be able to withstand powerful earthquakes. Building codes stipulate that smaller quakes shouldn't damage buildings — they must be able to move and dissipate energy.
One way is using shock absorbers in the base, usually rubber blocks under the foundations and in the internal structures. Designing the buildings using regular columns and spacing helps prevent them from collapsing as does ensuring the materials are of sufficient standards and no corners are being cut.
This can be expensive, but not always.
World's deadliest earthquakes — in pictures
Using the appropriate strength of concrete and rebar steel in a building is important and straightforward. Even without additional measures, ensuring that the basic fabric of the structure is well-built is key.
That can be applied in middle-income and developing countries.
When an 8.2 magnitude quake hit Chile in 2014, only six people were killed and nine injured.
Experts attributed the small toll to tight building regulations.
"They're a seismically active region of the world and they are very good at implementing their building codes, similar to California," John Bellini, a Denver-based geophysicist at the US Geological Survey, told CNN at the time.
The country also had up-to-date planning. They evacuated over a million people from the city of Coquimbo within hours of the first quake, to save people from tsunamis. It meant that there was a much lower risk of casualties if aftershocks brought down buildings that were already damaged.
However, experts all agree that preparing for earthquakes is only half the battle. Looking at what worked and learning from mistakes after major quakes, as well as sharing best practices between at-risk countries, helps engineers find the best design to mitigate devastation.