Gaziantep: Inside the city at the epicentre of Turkey's earthquake where time has stopped
Amina Ahmad's house still stands in Gaziantep, three days after the earthquake, but life inside is unbearable.
"We have no electricity, no water, and no heating," she told The National from the southern city an hour from the epicentre of the disaster. "No one is helping us," she added, with growing exasperation.
With night-time temperatures in Gaziantep falling to below freezing, many survivors of the 7.8-magnitude quake face a dilemma: freeze outdoors or stay in unsafe and barely habitable buildings which could crumble in dozens of aftershocks still rocking the region.
It is an overlooked repercussion of a catastrophe which has flattened at least 6,000 buildings in Turkey.
Thousands of structures are unsafe, especially with the ever-present risk of aftershocks — more than 600 of which have rattled the south since Monday morning.
Ms Ahmad is now seeking shelter in a hospital as the city's mosques, schools and motorways are filled with survivors.
"We are staying at the hospital, we told them we're sick, but it is real."
Survivors said that water mains were broken, adding to the urgency of the aid effort. The gas flow was also interrupted in Gaziantep.
"We have been without water for three days", said Eymen Hicazi, 38, a Syrian from Ghouta who has lived in Gaziantep since 2020. "We were told it's because the infrastructure was damaged".
Inhabitants are desperately trying to find alternatives. "We managed to get water from a well," Mr Hicazi said. The city's public fountains are surrounded by people trying to fill bottles.
"We cannot heat our houses," he added. "Some of the houses are cut off from electricity."
Worst earthquake for 10 years
Nearly 9,000 people have died in Turkey and tens of thousands have been wounded by the earthquake in Gaziantep, according to figures from AFAD, Turkey's disaster and emergency authority. The disaster is now the world's worst earthquake since a 9.1 magnitude tremor and tsunami struck Japan in March 2011, killing nearly 20,000.
The combined death toll in Turkey and Syria now exceeds 11,000.
More than 900 buildings were damaged in the city of Gaziantep alone.
Tuesday afternoon's aftershock was a huge quake in itself — registering at 7.6-magnitude — almost as strong as the first.
It toppled residential buildings and supermarkets, adding to the colossal rubble pile made more precarious by heavy rain and snow across the provinces, and shattered road networks.
A baby was pulled alive from the rubble in Gaziantep 55 hours after the quake, but hopes for survivors recede despite the best efforts of thousands of rescue workers.
Social media users continued to post pleas to help those trapped on Wednesday afternoon, sharing video footage of civilians sifting through the rubble.
One 11-year-old girl and her father remained under the rubble of their high-rise building, users said, posting the address to Twitter.
Elsewhere in the district, a six-months-pregnant woman and her family were trapped in the nearby town of Islahiye, which lies on the Syrian border.
Her friend appealed to social media users for help, saying they awaited a crane to move the debris.
"They made noise this morning but we can't move the concrete with buckets."
"They're waiting for a crane, they're still under the rubble. Please help."
Villages destroyed
In the surrounding countryside, some villages have been wiped off the map, other Gaziantep residents told The National.
On Wednesday, President Recep Tayyip Erdogan promised that no citizens would be left on the streets in a visit to nearby Kahramanmaras, the epicentre of Monday morning's quake.
But reaching that point will prove a huge challenge.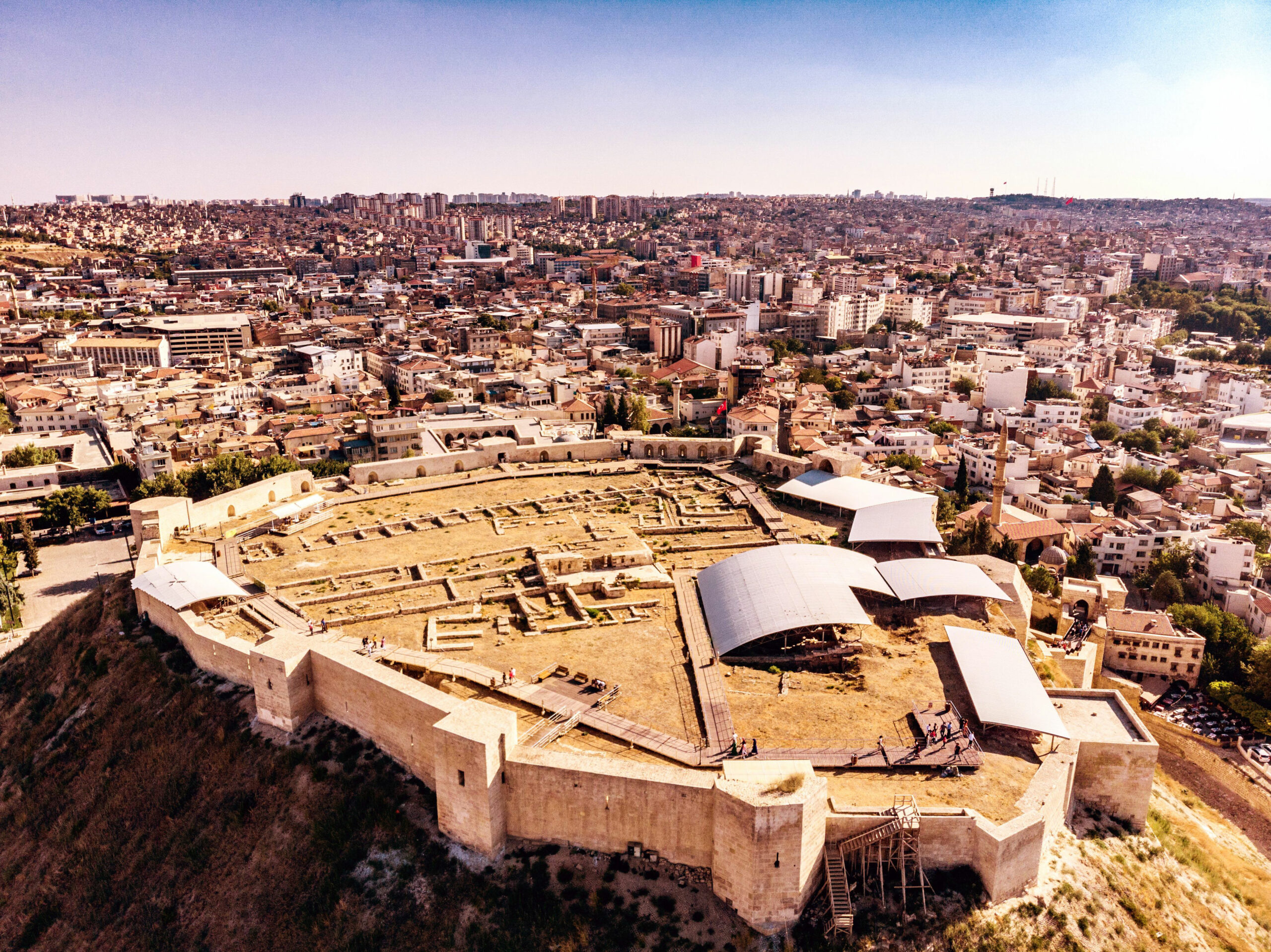 Driving into the city, The National witnessed roads torn and crumpled by the incredible force of the earthquake, making them impassible for all but the most rugged vehicles.
On a precarious journey, the road was pockmarked by huge holes. Some of the roads are destroyed, split into several blocks, making them totally impassable.
This has made the city difficult to access, leading to shortages of all kinds. People are queuing for bread and petrol. Most of the petrol stations are closed, fuel distribution is capped and station owners don't know when they will receive a fresh supply.
Now that the main roads are being cleared, many of those who are able are choosing to leave the city. On Wednesday morning, the streets were almost empty, and all shops were closed.
It seems that life has been suspended in Gaziantep since the disaster.
Emergency camps
Others are not as lucky and have no choice but to stay. Even though the city has not been as badly hit as other areas in southern Turkey, many houses were destroyed or seriously damaged.
Makeshift camps have been set up. Ahmad Abdel Rahman, 34, and his friend Mustafa Abou Maatouk are staying in one of them, in a garden in front of a mosque in the city centre.
"We live in old houses, we suffered some damage and we are afraid to go back. We have not received any help, and we don't know how long we are going to stay here," they said.
Tent cities for the displaced are already being set up in several of the 10 affected provinces.
Just how large the exodus of survivors will be remains to be seen. In Hatay province, the displaced gathered at the city's airport on Wednesday, hoping to take one of many Turkish Airlines evacuation flights away from the quake-hit provinces.
The airline has said it planned to evacuate 30,000 people on Wednesday and had moved almost 20,000 the day before.
Passengers at the airport were told it was at capacity, struggling with the influx of rescue teams and hazardous weather.
There are only limited flights out for civilians, said Pegasus, Turkey's low-cost airliner.