Turkey earthquake: Thousands of rescuers try to save those trapped under rubble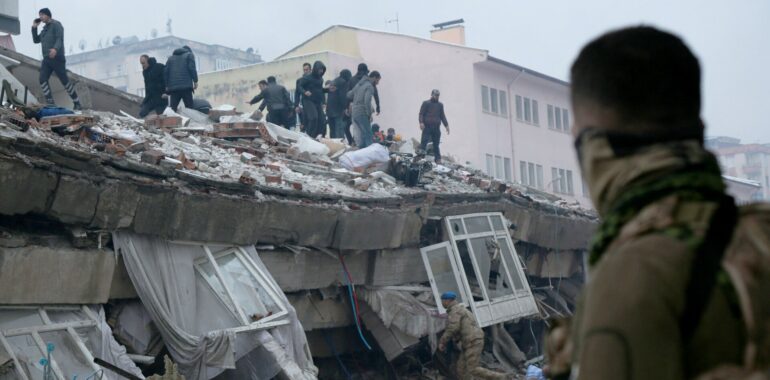 Follow the latest on the earthquake in Turkey
Thousands of rescuers dug in to save some of the people trapped under rubble after an earthquake devastated a large area of south-east Turkey on Monday.
The 7.8-magnitude quake, which also affected northern Syria, reduced buildings to rubble. Officials reported at least 912 dead and nearly 5,400 injured after the main tremor struck in the early hours.
"We do not know how far the number of dead and injured will rise as debris removal works continue in many buildings in the earthquake zone," President Recep Tayyip Erdogan said from the emergency headquarters in Ankara.
The disaster was the country's biggest since an earthquake in 1939, he said.
About 2,470 people have been rescued so far, while at least 2,818 buildings have been destroyed.
Ovgun Ahmet Ercan, a geophysics engineer, said the death toll could be expected to rise significantly, compounded by wintry conditions.
"A force with the power of 130 atom bombs was discharged," he said. "If so many structures have been destroyed, and the number of casualties may exceed 6,000. The structures are completely crushed.
"It's possible people may to freeze to death."
Social media was flooded with people begging for help, including many still trapped under the rubble of their homes.
"Save me," was the simple message posted a woman named Aysel with a photograph of herself encased in debris.
"Everyone here is devastated. Everyone is dying in Hatay," said Volkan Demirel, manager of the local football team, in an plea for help in an Instagram video.
Hatay province lies near the Syrian border, about 150km south-west of the epicentre in Karamanmaras province.
"Please [send] ambulances here, help," Mr Demirel said in the video. "Things are very bad here. Help, we can't reach people. We cannot do much on our own. I want you to send all amenities if possible. It's not just Hatay, the situation is the same in nearby cities. Please help for God's sake."
As dozens of powerful aftershocks followed the initial quake on the Eastern Anatolian fault, weakened multistorey blocks continued to collapse and officials told people to stay clear of buildings.
Nine hours after the initial quake, a 7.6-magnitude tremor hit the region, forcing rescuers to flee the sites of demolished buildings as others threatened to collapse.
Rescue efforts were impeded by snow and airports were closed.
"It takes some time for search-and-rescue teams from other provinces to reach the region due to the adverse weather," Vice President Fuat Oktay told journalists in Ankara.
Large cracks in the runway at Hatay airport stopped planes from landing, while roads across the region were also affected.
Hatay Governor Rahmi Dogan said hospital buildings in Antakya and Iskenderun had been destroyed while a hospital in Adiyaman, 92km east of the epicentre, was severely damaged.
Health teams made urgent arrangements for the wounded to be evacuated to hospitals around Turkey. A nationwide appeal for blood donations was launched as rescuer workers from across the country headed to the region.